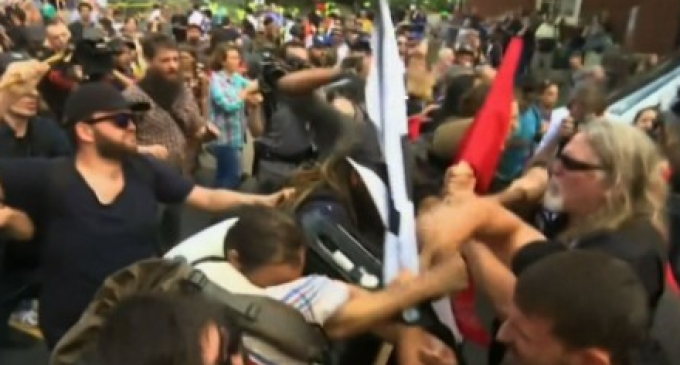 A state of emergency was declared this morning by Virginia Gov. Terry McAuliffe after violent protests broke out this morning at a "Unite the Right" rally in Charlottesville.
Governor McAuliffe has declared a state of emergency to aid state response to violence at Alt-Right rally in Charlottesville

— Terry McAuliffe (@GovernorVA) August 12, 2017
Protesters were fighting the erasing of history. Government and city officials had moved to remove a statue of Confederate (and Union!) general Robert E. Lee from a city park. The protest quickly gathered the attention of far-left protest groups such as Antifa hoping to cause a ruckus. Group of liberal protesters gathered to drown out the "Unite the Right" chants of "white lives matters" with "black lives matters".
Things took a deadly turn when Gov. McAuliffe ordered the National Guard be deployed to end the rally and the police to use force against the folks protesting the erasing of history.  Continue to the next page to see videos from the protest, the how far the national guard went to push back the militia groups showing up to protect the protesters