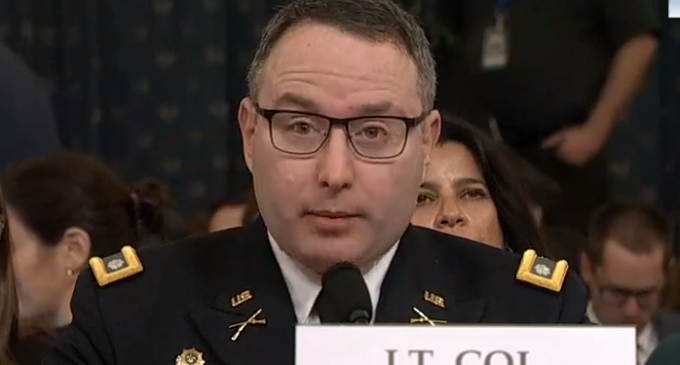 Lieutenant Colonel Alexander Vindman, a member of the National Security Council team and star witness of the Democrat-led impeachment inquiry altered his previous testimony today under a withering questioning by Republicans.
The Intelligence Committee is in its second week of inquiry as the witnesses for the Democrats and Republicans continue to be paraded through the proceedings. The first week of testimony led to many charges by Republicans that this was nothing more than a charade. In response, the Democrats have promised that this week will be even more jam-packed with explosive input by their chosen witnesses.
Vindman was testifying today on his involvement in the now-infamous Ukraine phone call between Presidents Trump and Zelensky. His assertions in both spoken and written testimony in the closed-door proceedings weeks ago are now being heard for the first time in public.
Turn to the following page to read about Vindman's admission that not everything he said in previous testimony was the truth and how he is now back-pedaling on his insistence that the Ukraine leader felt pressure by the demands of President Trump!