A barefoot couple in St. Louis, Missouri, brandished an AR-15 and a pistol to defend their home Sunday as a group of approximately 300 protesters marched through their gated neighborhood.
The couple confronted the group of about 300 protesters after they breached a gate in the neighborhood, according to a local NBC affiliate.

A video on Twitter showed the woman pointing the firearm at passing protesters while shouting.

A protester wearing a T-shirt that read, "Hands up, don't shoot," then urges participants to relocate into the street in an attempt to defuse the situation.

The protesters were en route to Krewson's home to demand her resignation after she released names and addresses of residents who suggested defunding the police department, the report said.

Personal injury lawyers Mark McCloskey, 63, and his wife Patricia, 61, told KMOV4 that they were having dinner with family outside their home when the BLM protesters broke through iron gates marked with "No Trespassing" and "Private Street" and "rushed" towards their home.

"A mob of at least 100 smashed through the historic wrought iron gates of Portland Place, destroying them, rushed towards my home where my family was having dinner outside and put us in fear of our lives," said Mark McCloskey.
A couple has come out of their house and is pointing guns at protesters in their neighborhood #StLouis #lydakrewson pic.twitter.com/ZJ8a553PAU

— Daniel Shular (@xshularx) June 29, 2020
here's what happens when you march on Portland Place in St. Louis, MO

they're scared of their own community pic.twitter.com/Ng8qW1Pa6C

— avery (@averyrisch) June 29, 2020
In this livestream footage you can clearly see the STL black lives matter mob entered through the gate to a private community. This was not a public sidewalk. https://t.co/NeKHgTBWEu pic.twitter.com/UdYq3pGtlb

— Cassandra Fairbanks (@CassandraRules) June 29, 2020
"Private Street" pic.twitter.com/r7VMDo60sm

— Alex Salvi (@alexsalvinews) June 29, 2020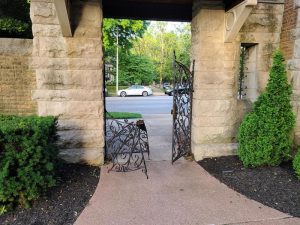 #antifaFilms presents: pic.twitter.com/F4kzyprwZP

— [email protected] (@Wotansson) June 29, 2020
Source: NY Post, Zero Hedge