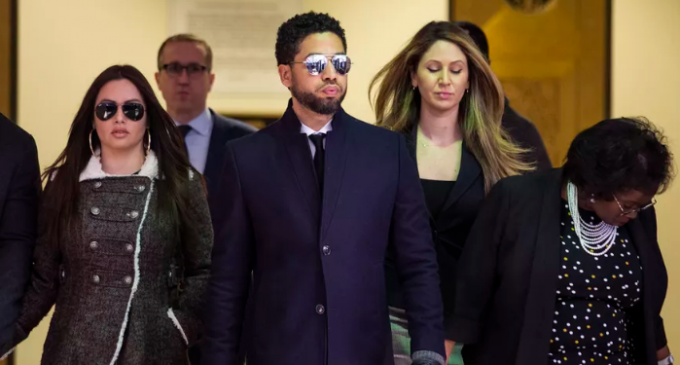 Lawyers for infamous hoaxer Jussie Smollett claim that the former "Empire" actor shouldn't have to repay the City of Chicago $130,000 that it spent investigating his alleged racist and homophobic attack in January. In a new motion seeking dismissal of the city's lawsuit, the defense argues that even if Smollett lied, he had no control over how many hours the Chicago police dept. would put into the investigation.
Attorneys for Smollett deny the actor made up the attack, and note charges were ultimately dropped by Cook County State's Attorney Kim Foxx.

"My client from the beginning has maintained his innocence and disputed the city's allegations," said William J. Quinlan, of The Quinlan Law Firm, who filed the motion. He noted that "it's going to be very difficult for the city to prevail in making a case my client should pay for overtime for a case ultimately dismissed by the state's attorney.

"It's ridiculous and a stretch to require him to do so."

We contend the city is wrong," Quinlan said of the city's assertion that Smollett should have known the city would spend nearly 2,000 hours investigating. " … The mere fact somebody filed a police report doesn't presume the investigation will be done and certainly not to the extent of what the city is claiming.

"Smollett has no control over that," Quinlan added.

In the legal brief, obtained by Sneed, Smollett makes clear that he is not admitting he made false statements. "Mr. Smollett disputes any and all assertions that he made a false statement and was not a victim of a crime," a footnote on the first page of the motion reads.

But even if he did, "The filing of a police report, in and of itself, does not necessitate a sprawling investigation nor does it, as a practical matter, usually result in an investigation as extensive as the one the CPD chose to undertake in this case," the motion says.

" … The City has failed to allege that Mr. Smollett was similarly 'well aware' that his statements to police would result in 1,836 hours of police overtime, or any other reasons why he should have known this would have been the case."
Smollett's lawyer also slammed the city of Chicago's $130,000 lawsuit as a "vindictive effort to prosecute charges" that were already dropped.
"This unprecedented civil case was filed simply because former Chicago Mayor Rahm Emanuel disagreed with the Cook County State's Attorney's decision to dismiss the false police report charges against Mr. Smollett," lawyer William Quinlan wrote in court documents filed in the US District Court for the Northern District of Illinois late Tuesday, in a last-ditch attempt to get the city's suit against the actor thrown out.
Source: Chicago Sun Times