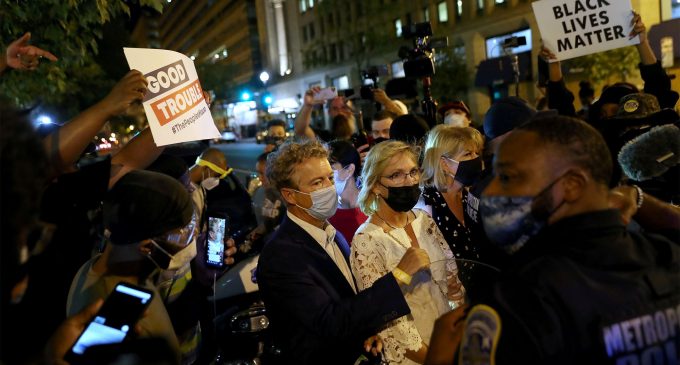 Senator Rand Paul and his wife were accosted by Black Lives Matter 'Protesters' as they left the Republican National Convention on Thursday night.
Paul thanked DC police for saving him from a 'crazed mob' of more than 100 people demanding that he say Breonna Taylor's name. Obviously oblivious to the fact that he introduced the Justice for Breonna Taylor Act in June to stop no-knock raids. Paul worked with Taylor's parents to do so.
"After talking with Breonna Taylor's family, I've come to the conclusion that it's long past time to get rid of no-knock warrants. This bill will effectively end no-knock raids in the United States," said Sen. Paul at the time.

As Sen. Paul and his wife were being escorted by police away from the event, a "protester" rushed up and shoved a police officer holding a bike into him. The Kentucky senator checked on the officer before getting out of harms way himself.
Just got attacked by an angry mob of over 100, one block away from the White House. Thank you to @DCPoliceDept for literally saving our lives from a crazed mob.

— Senator Rand Paul (@RandPaul) August 28, 2020
A bus full of RNC Convention attendees came down 14th heading towards a hotel. Upon seeing protesters in the street and a wall of police, they turn around, only to have protesters jump on the vehicle #RNCConvention2020 #DC #DCProtests pic.twitter.com/5vx68ESQ5d

— Brendan Gutenschwager (@BGOnTheScene) August 28, 2020
A woman opened the back door of the bus of RNC attendees and hopped inside #RNCConvention2020 #DC #DCProtest pic.twitter.com/Uar2cVbk7y

— Brendan Gutenschwager (@BGOnTheScene) August 28, 2020
Source: The Gateway Pundit