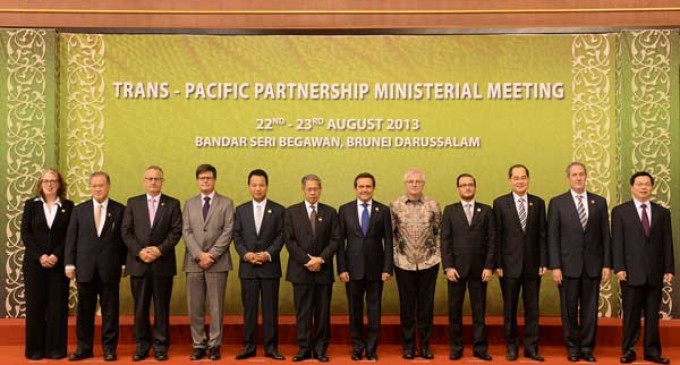 The TPP (Trans-Pacific Partnership) is a proposed free trade agreement currently under negotiation by countries on the Pacific rim, but the actual focus of the partnership covers much more than simple trade promotion. Exact details of the TPP are shrouded in secrecy, but some details have begun to leak out. One of the concerns about the deal is how it may completely change intellectual property laws in the United States and other signatory countries.
From Slate:
TPP is misleadingly labeled as a trade agreement, making it seem like a relatively narrow and limited agreement involving traditional topics like tariffs and exchange of goods—the sort of government-to-government discussions that seem too esoteric to have much impact on the everyday citizen. It is, in fact, much more than that. As explained by the USTR, TPP is an "ambitious, next-generation, Asia-Pacific trade agreement that reflects U.S. priorities and values."
Not only are the details of the negotiation secret from the public, even from the U.S. Congress, certain industry representatives, including the MPAA have been permitted access as 'cleared advisers'.
From Slate:
This same closed-door mentality that killed the Stop Online Piracy Act and has led to the near death of the Anti-Counterfeiting Trade Agreement. It likely will kill TPP if its negotiations do not change course. At a minimum, it will lead to an imbalanced and poorly drafted law.
Twelve countries are currently participating in the TPP negotiations: Australia, Brunei, Canada, Chile, Japan, Malaysia, Mexico, New Zealand, Peru, Singapore, the United States and Vietnam.