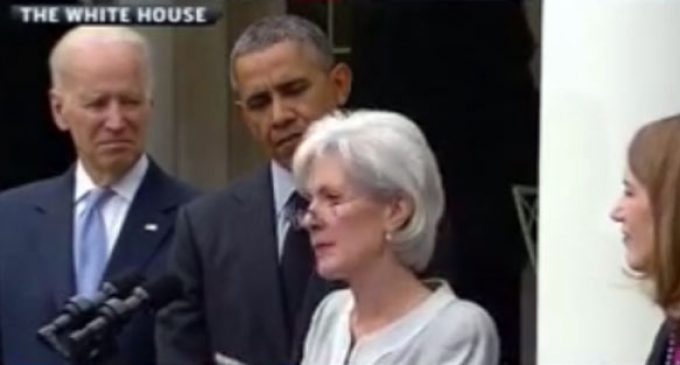 After a seemingly endless stream of botched jobs overseeing the ObamaCare rollout, Health and Human Services Secretary Kathleen Sebelius finally closed that chapter of her career when she resigned this week. But even her prepared resignation speech didn't go off without a hitch, as you can see below.
President Barack Obama used a Friday ceremony announcing his new nominee to lead the Department of Health and Human Services as a chance to celebrate the Affordable Care Act, even though it came with an action widely seen as a long time coming — the departure of HHS Secretary Kathleen Sebelius.

Obama, Sebelius and intended nominee Sylvia Mathews Burwell drew several standing ovations in the Rose Garden as they praised the work that led at least 7.5 million Americans to enroll in health insurance through exchanges, and millions more to gain coverage through Medicaid and other programs .
Source: Politico
Photo: YouTube