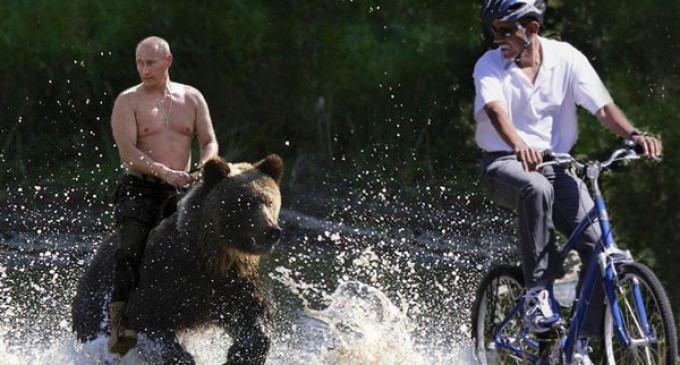 Putin is capitalizing on President Obama's weakness as our Commander In Chief, Russia practiced a nuclear strike close to Canada last week and abducted an officer from Estonia this week, right after Obama stated any aggressive action against a NATO member would be countered by the US.
Click the link below to read more:
Last week two Russian Tu-95 Bear bombers flew over the Labrador Sea in the northern Atlantic Ocean around Greenland, Iceland and Canada. The drill was conducted at the same time officials from the US, Canada and other allied partners held a NATO summit in Wales.
The Russian bombers carried six AS-15 nuclear-armed cruise missiles that are capable of striking targets 1,800 miles away.
Of course there was no response from the US.
Details below from RT.
After the summit, where Obama stated that "An armed attack against one shall be considered an attack against them all. This is a binding treaty obligation. It is non-negotiable." and "We will defend every ally," Russia abducted an officer from Estonia, who is a NATO member.
Putin will continue to push forward, testing Obama's resolve as far as he can,  which we all know to be nonexistent.
More on Russian Bomber Drills
Representatives for the US Northern Command and Northern American Aerospace Defense Command, or NORAD, declined to comment to Gertz ahead of his report, and told RT in an email Monday afternoon that they could not confirm the allegations printed by the Free Beacon. On his part, however, Gertz wrote that neither the US nor Canada responded to the alleged incident because it reportedly occurred outside of the North American Air Defense Identification Zone.

According to Gertz, the reported drill occurred last week at the same time that officials from the US, Canada and other allied partners met in Wales for the largest NATO summit of its kind in two years, where on the agenda, among other topics, was the escalating crisis in eastern Ukraine and potential action that could be undertaken to counter perceived Russian aggression. On the heels of that meeting, both the US and the European Union are expected to impose new sanctions against Moscow.

The latest report comes days after Russia's own recent decision to revise a 2010 military doctrine to identify the US and NATO members as enemies, which "clearly outline[s] the conditions of a preemptive nuclear strike" against partner countries, Gertz wrote. With regards to the alliance, NATO Secretary General Anders Fogh Rasmussen said during last week's summit that at least 4,000 troops from various member states will soon form a "spearhead" regiment that will be "ready to deploy within a few days with air, sea and Special Forces support" in the event that the Ukrainian crisis spread into allied territory.

Gertz has previously reported for the Beacon that no fewer than 16 Russian bombers incurred the airspace of either US or Canada during the month of August.

"Clearly, we at the US Strategic Command do monitor the strategic environment,"Admiral Cecil Haney, commander of the US Strategic Command, told Gertz last month following reports that Russian bombers came within 50 miles of California on the US West Coast. "I will say that the business of them coming close to the United States of America, we take very seriously."

Meanwhile NATO countries boost their presence in the vicinity of Russian borders. US, Spain, Canada, Romania and Turkey sent warships to take part in the joint naval exercises with Ukraine 'Sea Breeze 2014' in the Black Sea. A total of 12 ships and supply vessels – including seven Ukrainian ships – as well as planes and helicopters will participate in the drills.

NATO ships have been operating in the area since this spring, when tensions started escalating between Kiev forces and rebels in eastern Ukraine. Despite the three-week limit, set up by the Montreux Convention for non-Black Sea states' warships, the alliance has managed to secure its presence in the area by constantly rotating vessels there.
Source:
RT
Estonia said one of its security officers had been abducted on the border and taken into Russia on Friday as he tried to stop illegal activity on the border, but Russia said he had been detained on its territory as a suspected spy.

Estonian Foreign Minister Urmas Paet said Tallinn had contacted Moscow about the incident, on a border that in recent years has seen a number of incidents involving the smuggling of goods, weapons and migrants.

"He was captured by force, at gunpoint. He was fulfilling his duties preventing cross-border criminal activity," a Security Service statement said. It said the unidentified abductors had jammed radio communication at the Luhamaa checkpoint and used a smoke grenade as they seized him.

Russia's Federal Security Service (FSB), successor to the Soviet KGB, said an Estonian officer, identified as Eston Kohver, had been detained on Russian territory and was being investigated.

"A Taurus handgun with ammunition, 5,000 euros in cash, special equipment for concealed audio recording and documents that bear evidence of an intelligence mission were seized from the intruder," it said in a statement.

The Estonian security service confirmed to local media that the abducted man was Kohver.

Relations between Russia and Estonia, an ex-Soviet state and member of the EU and NATO, have deteriorated in recent months because of Russia's annexation of Crimea and a pro-Russian separatist rebellion in eastern Ukraine.

About a quarter of Estonia's population are ethnic Russians.