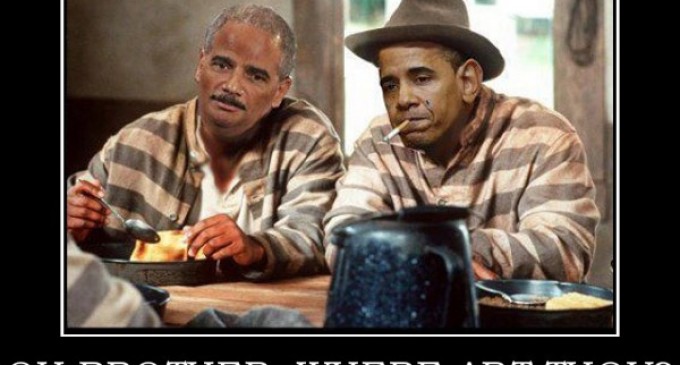 House Republicans announced plans to file articles of impeachment against Attorney General Eric Holder on Thursday.
Several GOP congressmen have been drafting articles of impeachment over a number of controversies relating to the U.S. Department of Justice. The lawmakers' grievances include Holder's refusal to turn over documents relating to Operation Fast and Furious, the DOJ's habit of selectively enforcing federal laws, and the department's refusal to prosecute IRS officials who allegedly accessed confidential taxpayer information, among other things.

The articles of impeachment also accuse Holder of providing false testimony to Congress, which is a "clear violation" of the law.
Rep Pete Olson (R-Texas) is one of the congressmen spearheading the effort along with Rep. Ted Yoho (R-Fla.). Other supporters of the impeachment include: Rep. Phil Roe (R-Tenn.); Rep. Ted Yoho (R-Tenn.); Rep. Lynn Westmoreland (R-Ga.); Rep. Larry Bucshon (R-Ind.); Rep. Blake Farenthold (R-Texas); Rep. Randy Weber (R-Texas); Rep. Roger Williams (R-Texas); Rep. Bill Flores (R-Texas); Rep. Louie Gohmert (R-Texas) and Rep. Michele Bachmann (R-Minn.).
In a statement provided to CQ Roll Call, Olson said Holder has displayed a "pattern of disregard for the rule of law" even after Congress voted to hold him in contempt in 2012. The Florida Republican also released a five-page white paper outlining the four articles of impeachment that will be filed against Holder:

Article I of the impeachment proceedings claims that Holder "engaged in a pattern of conduct incompatible with the trust and confidence placed in him" by refusing to comply with a subpoena issued by the House Oversight and Government Reform Committee for documents related to "a legitimate congressional investigation into Operation Fast and Furious by the Bureau of Alcohol, Tobacco, and Firearms that put thousands of illegally-purchased weapons into the hands of cartel leaders, ultimately resulting in the death of U.S. Border Patrol Agent Brian Terry on December 14, 2010."

[…]

Article II of the proceedings charges that Holder violated his oath of office by refusing to enforce certain laws that the Obama administration, for various reasons, decided not to enforce, including the Defense of Marriage Act, which the administration deemed unconstitutional.

[…]

Article III also charges that Holder violated his oath of office, this time by "refusing to prosecute individuals involved in the Internal Revenue Service scandal of unauthorized disclosure of tax records belonging to political donors."

[…]

Finally, Article IV claims Holder "provided false testimony to the House Judiciary Committee" regarding the potential prosecution of a member of the news media, Fox News correspondent James Rosen, using the Espionage Act.
Does your congressman support the impeachment of Eric Holder?
Source: TheBlaze
Image: Politifake