Media outlet Big League Politics reports that they were recently provided with an extensive background on Peter Strzok by a former co-worker of the FBI agent. The background includes details on his work within the intelligence community as well as his personal history, including the fact that he grew up in Iran. While many intel officers had had their histories scrubbed or otherwise not revealed, we now have some insight into Strzok.
Peter Strzok recently created a storm of controversy over his anti-Trump tweets and Congressional testimony. What is not widely known is that his father, a former U.S. Army major who is also named Peter Paul Strzok, was a pro-Islamic collaborator. He was in Iran during the hostage crisis and was supportive of the coup that overthrew the Shah, which placed the once western country under Islamic authoritarian rule.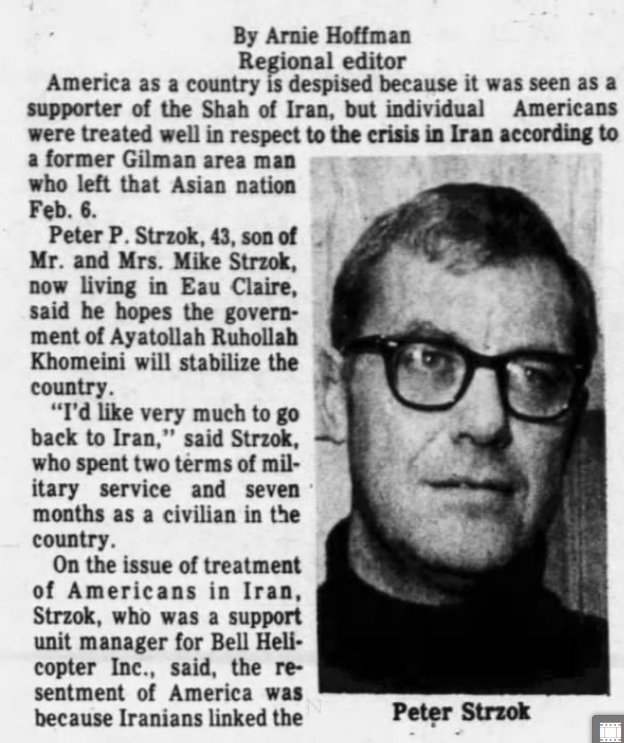 Peter Strzok Sr. was transferred to Saudi Arabia after his work to instill Islamic rule in Iran, appeasing his Saudi employers with anti-Semitic rhetoric.  Strzok Jr. was by his father's side during all his travels and activities.
As if all of this isn't bad enough, Strzok Sr. also conducted charity work in Haiti as an employee of Catholic Relief Services. And what other politician conducts so-called charity work in Haiti? That's right, Hillary Clinton. Turn the page for full details of the report as well as the Clinton connection.