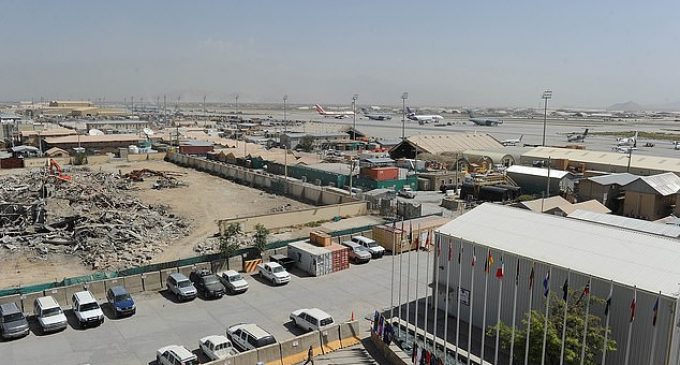 On the heels of Taiwan reporting that the Chinese military has flown 93 warplanes and other aircraft over waters south of Taiwan since Friday, multiple unconfirmed reports have surfaced that Chinese warplanes arrived at Bagram airbase in Afghanistan.
Built by the Soviet Union in the 1950s, Bagram has been the main military base used by the U.S. in Afghanistan for almost 20 years. The US abandoned Bagram in the middle of the night without notice on July 1st and is the primary reason we lost 13 U.S. servicemen. Leaving the base led to the Taliban seizing Bagram a month later and then releasing between 5,000 and 7,000 inmates from the Bagram prison.
Abdul Rehman, a former prisoner, was the ISIS terrorist who carried out the attack at Kabul airport on Aug. 26 – only 10 days after his release.
U.S. News reported on September 7th that China was weighing occupation of Bagram airport.
The Chinese military is currently conducting a feasibility study about the effect of sending workers, soldiers and other staff related to its foreign economic investment program known as the Belt and Road Initiative in the coming years to Bagram, according to a source briefed on the study by Chinese military officials, who spoke to U.S. News on the condition of anonymity.

A spokesman for the Chinese Foreign Ministry on Tuesday issued a carefully crafted denial of plans for an imminent takeover of the military airfield roughly an hour from Kabul, first established by the Soviets during their own occupation in Afghanistan and which at the height of the U.S. military presence there was its busiest in the world.

"What I can tell everyone is that that is a piece of purely false information," Wang Wenbin told reporters Tuesday morning. China has repeatedly denied many of its other military deployments beyond its borders.
Move to the next page for images allegedly depicting China warplanes landing at the airport.