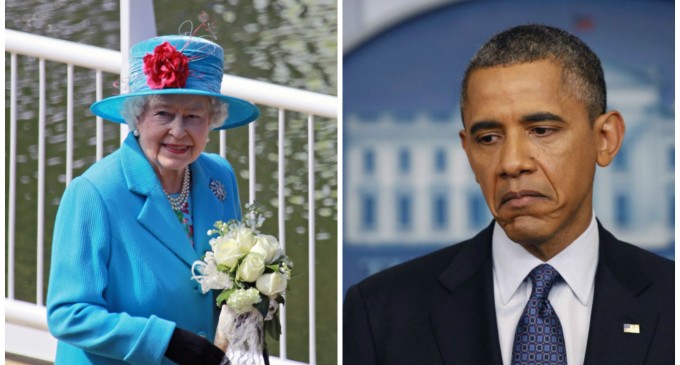 It might come as a shock to liberals, but not everybody is falling over themselves to accommodate President Obama, including one very eminent head of state.
Planning a highly publicized trip to the UK, Obama and his staff seemed to believe that the Queen would receive him at Buckingham Palace, her main place of residence and affairs of state, when he visits the country next year.
But the Queen won't be seeing him there: instead, he and his entourage will have to travel 22 miles to see her at Windsor Castle, where she will wait for the president. Apparently, she didn't think it was worth the extra effort of making the trip back to London for Obama.
Learn more on the next page:
In hindsight, perhaps the Queen's snub of Obama was foreseeable. Obama has done much to anger Britons, urging them to stay in the EU in spite of widespread hostility to such a move, and slamming Prime Minister David Cameron for his handling of Libya.
Understandably, the Queen's office was quick to defend her action, pointing out that other presidents have had to make the trek from Buckingham to Windsor before:
"The Daily Mail's claim that the Queen is refusing to return to London has been dismissed by her spokesman.

He said: 'It is appropriate that The Queen will receive the President of the United States at Windsor Castle next month when she is at Windsor for Easter Court.

'President Reagan stayed at Windsor in 1982 and President George W Bush visited The Queen at Windsor during his last full year in office in 2008, and of course Windsor is the setting for a number of State Visits, most recently for the Presidents of Ireland and France.

Going back further in time, The Queen received President Eisenhower at Balmoral Castle in 1959.'

The president's visit to Britain is expected to be just after the Queen celebrates her 90th birthday on April 21.

It is set to be his last visit to this country as President of the USA."
Source: The Sun