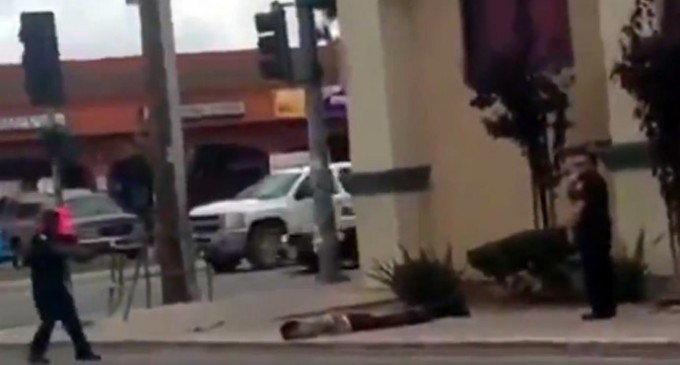 Between 300 and 500 protesters gathered this week in Salinas, CA in protest of a wave of police brutality – including an execution of a man on Tuesday, which seems to have been the event to spark the protest. One of those protestors died, although it's unclear how.
Tuesday's incident was the second time this month that someone has been killed at the hands of law enforcement. It started when police responded to a 911 call of an attempted break in. They found this man on the street and started questioning him, as he walked away from the police, they shot and killed him.
Police state that the man had gardening sheers and attacked them. It's difficult to see if the man had gardening sheers in his hands, but he is clearing walking away from police. Watch the video and decide for yourself.
As police brutality rises exponentially in this country we should expect to see more protests – and one can probably expect forceful responses from the state.
Just one day after two officers in Salinas, California, fatally shot a suspected robber, another man was shot and killed Wednesday night as protests against the quick trigger fingers of local police took place nearby.

According to CBS San Francisco, between 300 and 500 protesters gathered near Del Monte Avenue in Salinas to voice their opposition to what they see as excessive force by police. Currently, it's unclear what circumstances led up to the deadly confrontation, but an already emotional protest turned violent afterwards, and police with riot gear were called in to respond at the scene.

In the midst of the violence, a police officer was also hospitalized after being hit in the head with a heavy object – either a brick or a bottle – as he was performing CPR on the shooting victim.

One man was also arrested, local KION News reported. Accused of "harassing" a K-9 and rounding up others to "taunt" police, 26-year-old Diego Garcia was charged with inciting a riot and resisting arrest.

Tuesday's incident marked the second time in about two weeks that an individual had been killed at the hands of law enforcement, and the third time this year.

As RT reported previously, a female resident called police on Tuesday afternoon to report an attempted break-in. The woman claimed the man involved was also trying to kill her dog and had exposed himself to her. When police arrived at the scene, however, the man was on another street and was carrying gardening shears. As police confronted him, they said he began acting strangely.

"Officers end up talking to this individual, trying to find out what he's doing and what the situation was based upon the original 911 call," Salinas Police Cmdr. Vince Maiorana said. "This individual started to wave the gardening shears at the officers. We tried to deploy a Taser; the Taser did not work and as the officers tried to detain this individual, this individual pulled the gardening shears and actually attacked the officers with the gardening shears.

"In response, the officers, fearing for their personal safety, shot this individual and he is now deceased."

Witnesses disagreed with this version of events, though. Video of the event surfaced as well, with the female college student behind the camera saying the man looked like he was trying to back away from the officers the entire time.

In the wake of the shooting, police also stated the suspected robber was drinking heavily beforehand. They said the previous two shootings also involved individuals who were intoxicated at the time.

This detail did not seem to change the minds of many protesters on Wednesday, one of whom told local KSBW that alcohol use should not justify excessive and lethal police force.

"So basically if you're drunk here in Salinas you run the risk of getting shot by police and it just shows the lack of training … that they have to resort to lethal force all the time and kill civilians," protester Ralph Garcia said. "That's not right, we're not going to allow this."

While people gathered in person to demand answers, a petition written by Cesara Chavez was also posted online at Change.org. Currently, it has garnered about 2,000 signatures.

"The East Salinas community is in need of clarity and answers in the wake of a series of police shootings in our neighborhood streets," it reads. "There has been a historic practice seen in law enforcement that targets boys and young men of color in cities across California, and we have watched it unfold over the past two weeks on our own streets.

"It is critical our law enforcement officials are transparent in their actions, held accountable for their behavior, and properly trained to provide culturally responsive and socially conscious patrol and procedural practices to ensure the trust, safety, and communication needed to successfully serve in the best interest of our community. East Salinas and the broad community deserve dignity and answers."

Responding to the outrage shown by local residents, Maiorana said that investigations are underway.

"We completely understand that there is genuine concern and questions that need to be answered. We want to be able to come forth with all the facts," he told KSBW. "It's a horrible situation when you have lost of life. We take investigations seriously no matter who is involved, so I just hope people don't rush to judgment."