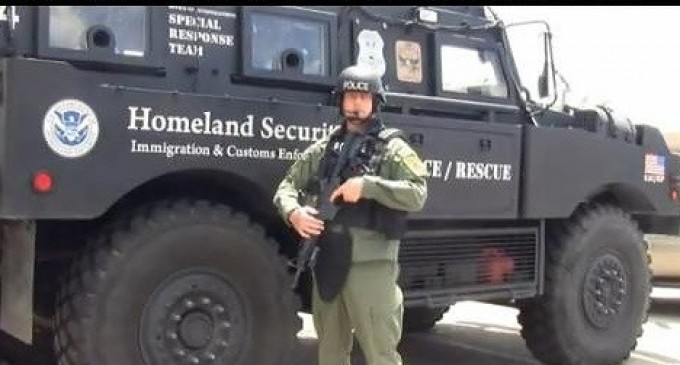 The United States is no longer governed by the Constitution.
Feds searched this prestigious journalist's home with a BS warrant for 'unregistered firearms' and a 'potato gun', but then stole a list of government whistleblowers she was working as well as papers detailing problems inside DHS.
The original intention was obviously to get these papers and the official warrant was a cover.
DHS is the new Stasi. Our constitution no longer exists to protect us!
Maryland state police and federal agents used a search warrant in an unrelated criminal investigation to seize the private reporting files of an award-winning former investigative journalist for The Washington Times who had exposed problems in the Homeland Security Department's Federal Air Marshal Service.

Reporter Audrey Hudson said the investigators, who included an agent for Homeland's Coast Guard service, took her private notes and government documents that she had obtained under the Freedom of Information Act during a predawn raid of her family home on Aug. 6.

The documents, some which chronicled her sources and her work at the Times about problems inside the Homeland Security Department, were seized under a warrant to search for unregistered firearms and a "potato gun" suspected of belonging to her husband, Paul Flanagan, a Coast Guard employee. Mr. Flanagan has not been charged with any wrongdoing since the raid.

The warrant, obtained by the Times, offered no specific permission to seize reporting notes or files.

The Washington Times said Friday it is preparing legal action to fight what it called an unwarranted intrusion on the First Amendment.

"While we appreciate law enforcement's right to investigate legitimate concerns, there is no reason for agents to use an unrelated gun case to seize the First Amendment protected materials of a reporter," Times Editor John Solomon said. "This violates the very premise of a free press, and it raises additional concerns when one of the seizing agencies was a frequent target of the reporter's work.

The search warrant for the raid, issued to Maryland State Trooper Victor Hodgin by a district court judge, made no reference to the documents. A copy obtained by The Times indicates that the search was to be narrowly focused on the pursuit of "firearms" and their "accessories and/or parts," as well as any communications that that might be found in

Mrs. Hudson

and

Mrs. Flanagan

's home related to "the acquisition of firearms or accessories."

The search warrant for the raid, issued to Maryland State Trooper Victor Hodgin by a district court judge, made no reference to the documents. A copy obtained by The Times indicates that the search was to be narrowly focused on the pursuit of "firearms" and their "accessories and/or parts," as well as any communications that that might be found in

Mrs. Hudson

and

Mrs. Flanagan

's home related to "the acquisition of firearms or accessories."

"This is a situation where they picked very specifically through her stuff and took documents that the Coast Guard, or the Department of Homeland Security, would be very interested in," he added.

The raid could constitute illegal search and seizure under the Fourth Amendment — and the fact that the materials were related to her work as a reporter could First Amendment freedom of the press protections.

"They tore my office apart more than any other room in my house," she said, adding agents did not take other potentially non-TSA-related documents from the office.

"I had a box full of [Department of Defense] notes," she said. "They didn't touch those."

Some of the files included notes that she had used to expose how the Federal Air Marshal Service had lied to Congress during the years after the Sept. 11, 2001, terrorist attacks about the number of airline flights that the service was actually protecting against another terrorist attack.

"Essentially, the files that included the identities of numerous government whistleblowers were turned over to the same government agency and officials who they were exposing for wrongdoing,"

Mrs. Hudson

said.

Her investigations have sparked numerous congressional investigations that led to laws signed by former Presidents George W. Bush and Bill Clinton. She has won numerous journalism awards for her investigations, including the prestigious Sigma Delta Chi bronze medal for public service, the Society of Professional Journalists Dateline Award in Investigative Reporting, and was nominated twice by The Times for the Pulitzer Prize.

"Protecting confidential sources is a part of my honor and hits me at my ethical core," said Mrs. Hudson. "To have someone steal my source information and know it could impact people's careers, is disgusting, a massive overreach. This kind of conduct is intimidation clearly aimed at silencing a vigorous press."