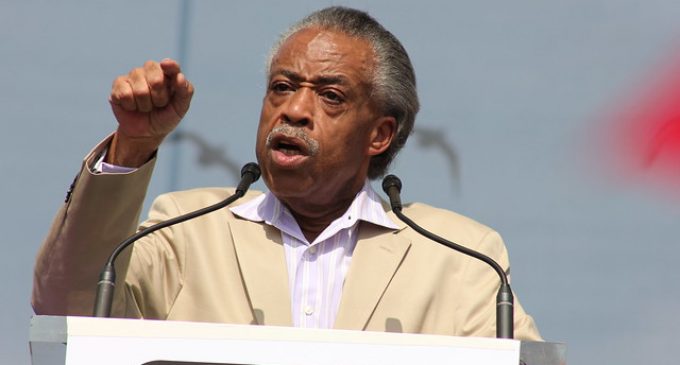 The firestorm regarding President Trump calling out Rep Rep. Elijah Cummings and his 'failed' Baltimore district as a 'disgusting rat and rodent-infested mess, brought in veteran black 'activist' Al Sharpton, who promises to head to Baltimore "to hold a presser in Baltimore to address Trump's remarks and bi-partisan outrage in the black community."
On his MSNBC show on Sunday, Sharpton criticized Trump for "insult after racist insult" towards Cummings and Baltimore.

Sharpton lectured Republicans for looking the other way as Trump continued his "blatant dehumanizing racist rant" that was "endorsed" by his base.

Here we have blatant, raw, racism, and crickets from the Republican party," Sharpton said.
As a prominent New York businessman, Trump said on Twitter that he had known Sharpton for 25 years and even "got along well" with him when he went to boxing fights with Don King.

"He 'loved Trump!" Trump wrote. "He would ask me for favors often."

Sharpton wrote on Twitter on Sunday he was preparing to travel to Baltimore.

"Long day but can't stop," he wrote.

Sharpton announced plans for a Monday protest in Baltimore with former Republican National Committee Chairman Michael Steele to criticize Trump's remarks.
The President responded by tweeting "25 years of all talk, no action!" he wrote. "So tired of listening to the same old Bull… Next, Reverend Al will show up to complain & protest. Nothing will get done for the people in need. Sad!"
Baltimore, under the leadership of Elijah Cummings, has the worst Crime Statistics in the Nation. 25 years of all talk, no action! So tired of listening to the same old Bull…Next, Reverend Al will show up to complain & protest. Nothing will get done for the people in need. Sad!

— Donald J. Trump (@realDonaldTrump) July 29, 2019
Sharpton fired back with a photo of Trump and himself at a convention and claimed that Trump once 'respected his work.'
"Trump at NAN Convention 2006 telling James Brown and Jesse Jackson why he respects my work," he wrote. "Different tune now."
Trump at NAN Convention 2006 telling James Brown and Jesse Jackson why he respects my work. Different tune now. pic.twitter.com/mvNQmPdLUh

— Reverend Al Sharpton (@TheRevAl) July 29, 2019
Source: Breitbart
Image: Elvert Barnes