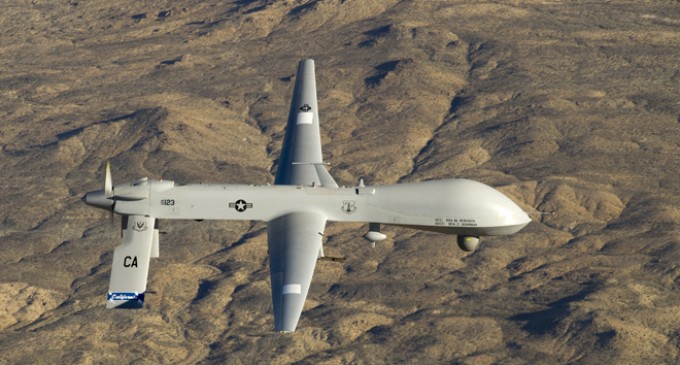 We now have the first case of a predator drone being used to gather evidence and convict a citizen.
Sheriff Kelly Janke of Nelson County, ND, had U.S. Border Patrol deploy a predator drone to conduct live video surveillance of a farmer's land and family's movements following an armed standoff.
If the use of drones isn't monitored by the necessity of a warrant, it will be abused. But, of course, our government isn't interested in making sure our rights are protected.
What began as a wild west-style cattle-stealing case may have ushered in a brave new world of law enforcement officials using drones to gather evidence to put Americans behind bars.

In the first-ever case of a U.S. citizen being convicted and sentenced to prison based in part on evidence gathered by a drone, Lakota, N.D., farmer Rodney Brossart got a three-year sentence for his role in an armed standoff with police that began after he was accused of stealing his neighbors' stray cattle in 2011.

Brossart was arrested on June 23, 2011, but his family refused at gunpoint to let authorities armed with a search warrant onto their 3,600-acre property to investigate the neighbors' complaint. Brossart was later released on bail, and warrants issued for his three sons, but the  family refused for months to respond to orders to appear in court, prompting Nelson County Sheriff Kelly Janke to have the U.S. Border Patrol deploy a Predator drone conduct live video surveillance of the farm.

The drone monitored the family's movements on the farm following the armed standoff. It was not clear how long the drone was deployed or whether it gathered evidence of the alleged cattle theft.

But the eye in the sky gathered enough evidence to prompt Janke's men to finally move in in November 2011, arresting five family members on terrorizing charges.

"We put a tactical operational plan together this afternoon and we implemented it and everything went as planned for us, so we're very pleased that we did end with a peaceful resolution this evening," Janke told WDAZ at the time.

A jury found Brossart not guilty of stealing the cows, valued at $6,000, but he did get three years – all but six months of which was suspended – for his part in the armed police standoff based in part on video supplied by the drone to court officials, according  to the Grand Forks Herald.

The case could prove significant, because Brossart's attorney tried unsuccessfully to have the terrorizing charges related to his standoff with police dropped because evidence was gathered by the drone without a search warrant specifically allowing for it.

Prosecutors had previously dropped charges against Brossart's wife and daughter, for their alleged roles in keeping police at bay. Charges against his three sons related to terrorizing are still pending.

"This case should have never happened," state District Judge Joel Medd said in court. "Chalk it up to stubbornness, to stupidity, to being at odds with your neighbors or any combination of those. We should never have been here if the cows would have just been returned."

Forbes magazine predicted it won't be the last time drones are used to put Americans in prison, and reported the use of drones for police missions is on the rise. Between 2010 and 2012, law enforcement agencies used CBP Predator drones for 700 missions, the media outlet reported.