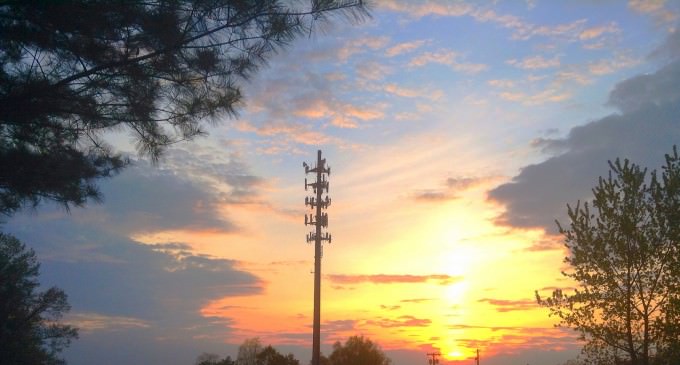 A recent publication by Popular Science details how over a dozen mysterious, phony cell phone towers have been discovered, most of them on our military bases.
These phony towers, called interceptors, have the ability to override the encryption in your phone, leaving your calls insecure.
Some are powerful enough to take over a device and make it seem like it has shut down – only to leave the microphone on for eavesdropping.
This is complimentary to the Stingray, which are fake towers used by local law enforcement across the country with similar capabilities.
To show what the CryptoPhone can do that less expensive competitors cannot, he points me to a map that he and his customers have created, indicating 17 different phony cell towers known as "interceptors," detected by the CryptoPhone 500 around the United States during the month of July alone. (The map below is from August.)  Interceptors look to a typical phone like an ordinary tower.  Once the phone connects with the interceptor, a variety of "over-the-air" attacks become possible, from eavesdropping on calls and texts to pushing spyware to the device.

August GSM Interceptor Map

ESD

"Interceptor use in the U.S. is much higher than people had anticipated," Goldsmith says.  "One of our customers took a road trip from Florida to North Carolina and he found 8 different interceptors on that trip.  We even found one at South Point Casino in Las Vegas."

Who is running these interceptors and what are they doing with the calls?

Who is running these interceptors and what are they doing with the calls?  Goldsmith says we can't be sure, but he has his suspicions.

"What we find suspicious is that a lot of these interceptors are right on top of U.S. military bases.  So we begin to wonder – are some of them U.S. government interceptors?  Or are some of them Chinese interceptors?" says Goldsmith.  "Whose interceptor is it?  Who are they, that's listening to calls around military bases?  Is it just the U.S. military, or are they foreign governments doing it?  The point is: we don't really know whose they are."

Ciphering Disabled

Les Goldsmith

Interceptors vary widely in expense and sophistication – but in a nutshell, they are radio-equipped computers with software that can use arcane cellular network protocols and defeat the onboard encryption.  Whether your phone uses Android or iOS, it also has a second operating system that runs on a part of the phone called a baseband processor.  The baseband processor functions as a communications middleman between the phone's main O.S. and the cell towers.  And because chip manufacturers jealously guard details about the baseband O.S., it has been too challenging a target for garden-variety hackers.

"The baseband processor is one of the more difficult things to get into or even communicate with," says Mathew Rowley, a senior security consultant at Matasano Security.  "[That's] because my computer doesn't speak 4G or GSM, and also all those protocols are encrypted.  You have to buy special hardware to get in the air and pull down the waves and try to figure out what they mean.  It's just pretty unrealistic for the general community."

But for governments or other entities able to afford a price tag of "less than $100,000," says Goldsmith, high-quality interceptors are quite realistic.  Some interceptors are limited, only able to passively listen to either outgoing or incoming calls.  But full-featured devices like the VME Dominator, available only to government agencies, can not only capture calls and texts, but even actively control the phone, sending out spoof texts, for example.  Edward Snowden revealed that the N.S.A. is capable of an over-the-air attack that tells the phone to fake a shut-down while leaving the microphone running, turning the seemingly deactivated phone into a bug.  Andvarious ethical hackers have demonstrated DIY interceptor projects, using a software programmable radio and the open-source base station software package OpenBTS – this creates a basic interceptor for less than $3,000.  On August 11, the F.C.C. announced an investigation into the use of interceptors against Americans by foreign intelligence services and criminal gangs.