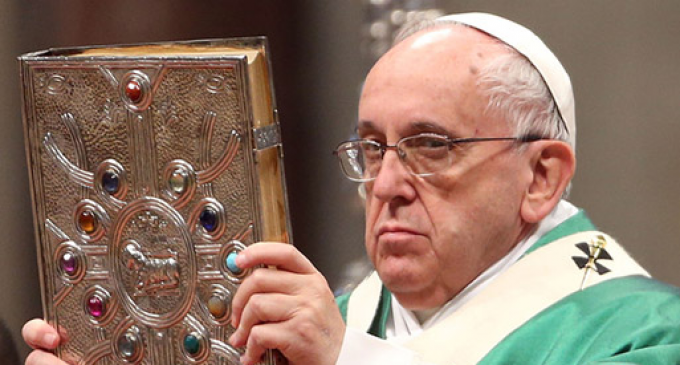 Pope Francis is his own worst enemy. Remember when Vladimir Putin allegedly called out Jorge Bergoglio [the man roughly 1.2 billion Catholics naïvely call Pope Francis] as an imposter who doesn't even bother to read his own Bible during an event at the Naval Cathedral of St. Nicholas in Kronstadt?
If you look around at what he (the Pope) says it's clear that he is not a man of God. At least not the Christian God, not the God of the Bible."
Well, it seems like Jorge Bergoglio took Vladimir Putin's alleged advice to heart.
He placed Rules for Radicals back on the shelf and pulled out a freshly minted copy of the Good Book to do a little pursuing.
But, if Jorge Bergoglio's latest proclamation is any sign of his tip-toeing into the immortal words of God, he didn't find the Lord's word suited to his political aspiration for "a new [earthly] political authority" to "save the world from unprecedented destruction".
Continue to the next page to hear Jorge Bergoglio's latest plans for distorting the scriptures and destroying the Catholic Church