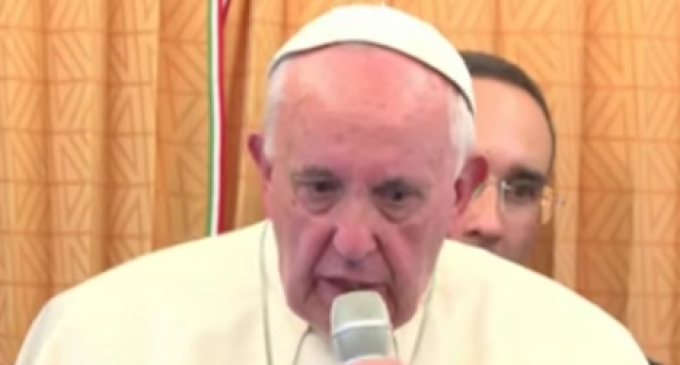 Pope Francis made some sweeping and one might say presumptuous statements this past Sunday which have caused more traditional Catholics to wonder whether their church will survive the often off-the-cuff remarks of the pontiff.
Following the lead of Cardinal Reinhard Marx, who seemed to be testing the waters for a statement on LGBT relations with the church and beyond, the Pope made the following observations:
"I repeat what the Catechism of the Catholic Church says: that they must not be discriminated against, that they must be respected and accompanied pastorally," Francis said at a press conference aboard the papal plane returning from Armenia.
"The Church must ask forgiveness for not behaving many times — when I say the Church, I mean Christians! The Church is holy, we are sinners!"
"I believe that the church not only should apologize to the person who is gay whom it has offended," he added, "but has to apologize to the poor, to exploited women, to children exploited for labor; it has to ask forgiveness for having blessed many weapons."
Francis first uttered that rhetorical question — Who am I to judge gay people? — in 2013, also during a news conference on the papal plane. His comments were hailed as a breakthrough for a church that has historically condemned homosexuality, often in harsh terms. Francis has not changed church doctrine that calls homosexual acts sinful, but he has shown a more merciful approach to people on the margins, including gays and lesbians.
A leading cardinal of the Catholic Church, one who is part of a council to help advise Pope Francis, preceded the pontiffs remarks at a different venue, saying that the church should apologize to gays and lesbians for the "scandalous and terrible treatment" inflicted on them for many years by the church and its members. Cardinal Reinhard Marx stated that "the history of homosexuals in our societies is very bad because we've done a lot to marginalize [them]."
It is worth wondering if the social changes in society and the drifting of membership has caused a new perspective in the church.
Cardinals comments question Church position on gays and lesbians, page 2: