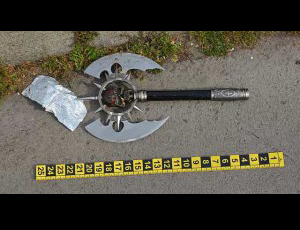 Laronda Sweatt was served and eviction notice, flew into a rage and stabber officer Gary Pickard in the stomach with a spiked battle axe. That's the kind that Vikings use in movies.
From WKRN:
When a deputy with the Sumner County Sheriff's Office along with members of the Gallatin Housing Authority served Laronda Sweatt an eviction notice, she became combative and stabbed the deputy with an axe.

A neighbor News 2 spoke with saw the deputy, identified as Gary Pickard, as he made his way back his car and called for back-up.

"There was an officer running up holding his side. The ambulance was coming and they run us back inside and tell us not to come outside," said Seth Lazenby.

Three other Gallatin officers arrived at the scene and Sweatt allegedly met Officer James Spray in the street.
That meeting proved fatal for the axe wielding Sweatt.
While the video below is disturbing, it shows how the officer asked her to drop the weapon five times before he fired the first shot.
Source: WKRN
https://youtu.be/QiZz238RPXU