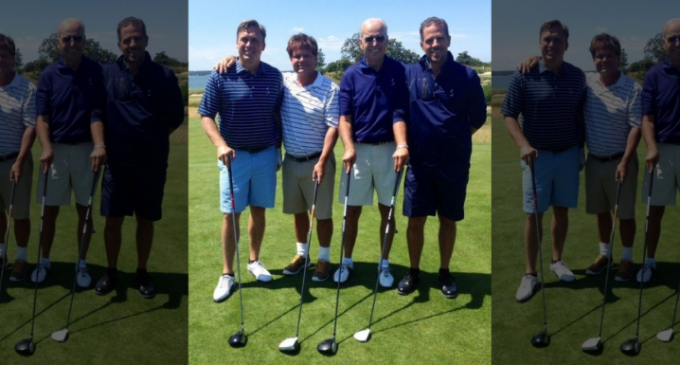 Speaking to reporters in Iowa on September 22nd, an irritated Joe Biden insisted that he had never discussed overseas business deals with his son Hunter had with Ukraine. Fox News reporter Peter Doocy had asked the former vice-president: "How many times have you spoken to your son about his overseas business dealings?"
"I have never spoken to my son about his overseas business dealings," Biden insisted. "I know Trump deserves to be investigated. He is violating every basic norm of a president. You should be asking him why is he on the phone with a foreign leader, trying to intimidate a foreign leader. You should be looking at Trump."
However, a newly unearthed photo shows Biden and Hunter playing golf with Devon Archer, who sat on the board of the Ukrainian energy firm, Burisma Holdings, that employs Hunter.
According to Fox News Channel's Tucker Carlson, who obtained the photo, it's believed to have been snapped at the Sebonack Golf Club in Southampton, New York in 2014.
See the video below for more.