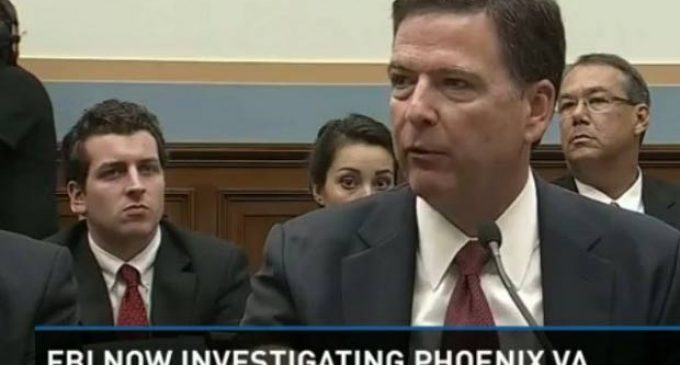 The FBI has opened a criminal investigation into the Veterans Administration. Director James Comey confirmed Wednesday that the agency's Phoenix office had begun the investigation:
From CNN:
The FBI says it has opened a criminal investigation of the Veterans Affairs Department, which is grappling with a scandal over long waiting lists to provide care and allegations that paperwork was faked to make delays appear shorter.

FBI Director James Comey told a House hearing on Wednesday the bureau's Phoenix office has joined an ongoing review by the VA inspector general.

The move at least partly satisfies requests from key members of Congress from both parties who have pressed for a full probe by the Justice Department as the scandal accelerated in recent weeks and led to the resignation of VA Secretary Eric Shinseki in May.

Officials have said the inspector general is sharing findings with federal prosecutors, and the Justice Department could launch a full-blown criminal probe if any of the information meets the standard for doing so.
An audit released earlier this week revealed that 57,000 veterans have been waiting 90 days or longer for their first VA appointment, while another 64,000 never even got appointments.  Other recent reviews exposed the practice of employees manipulating appointment schedules to hide wait times.  A report from the Veterans Affairs inspector general indicated that inappropriate scheduling practices are a systemic issue.

Many of these problems first gained intense media attention after reports at the Phoenix VA center, and this is where the FBI is expected to begin its investigation.
Source: Legal Insurrection
Photo: Legal Insurrection