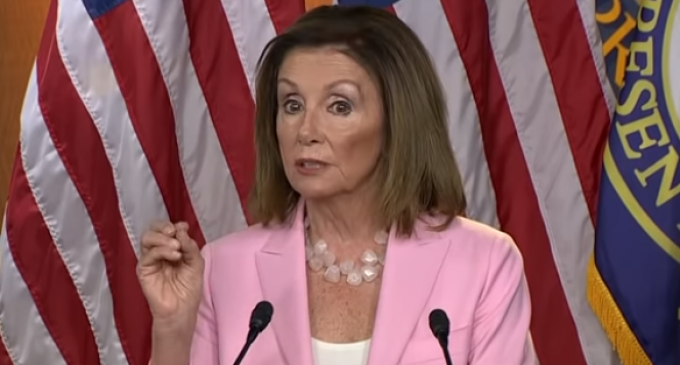 House Speaker Nancy Pelosi had her hands full with the press on Thursday as their continuous cries to discuss impeachment derailed her attempts to skirt the issue – she ended up cutting the conference short in a huff.
The House Judiciary Committee is currently conducting an impeachment inquiry into whether or not to pursue an impeachment of President Trump.
Pelosi has resisted a formal House vote that would authorize the House Judiciary Committee to launch an official impeachment inquiry. House Judiciary Committee Chairman Jerry Nadler has nonetheless declared the panel is conducting an official investigation. The committee voted Thursday to establish formal rules for pursuing an impeachment inquiry, and Nadler declared a House vote is not needed to authorize one.
Pelosi said, "I stand by what we've been doing all along, I support what is happening in the Judiciary Committee because that enables them to do their process of interrogation and their investigation and I salute them for that work."
"I've traveled the entire country. Come with me some time, and you'll hear what the American people are saying. they understand that impeachment is a very divisive measure, but if we have to go there, we'll have to go there. That's all I'm going to say about this subject," she added.
The attempt to shut down reporters on the issue, however, was in vain as they continued to press.
"I'm not answering any more questions about a possible inquiry, investigation, and the rest," Pelosi tersely told reporters. "Why is it that you are hung up with a word over here when lives are at stake over there?" she said, walking out of the room.
Rep. Tom McClintock called out the Democrats as conducting "the illusion of impeachment without the reality."
See the video below.
Source: Washington Examiner