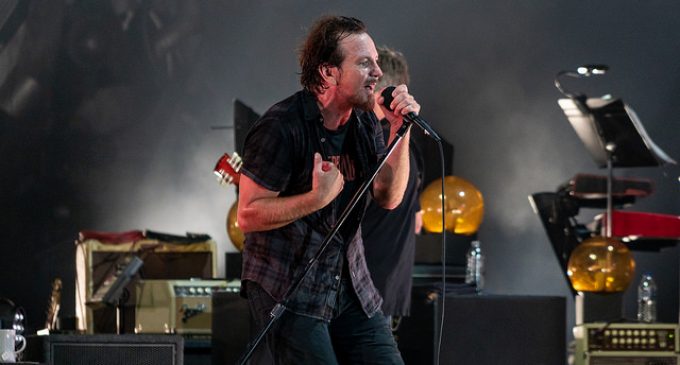 A poster created by Pearl Jam bassist Jeff Ament and artist Bobby Draws Skullz has sparked outrage for depicting the corpse of President Donald Trump being picked at by a bald eagle while it reaches for a briefcase that has a communist hammer and sickle emblem on it. The entire scene occurs outside of a burning White House.
The poster was used to promote a Pearl Jam show in Missoula, Montana but also doubled as a fundraiser for the reelection of Democrat Senator Jon Tester. Ament noted that he wanted to depict Tester as "Evel Knievel on a tractor over the cesspool below." "You know the deal," he said. "We're at a tipping point and it's time for action. Jon Tester is the real deal and nobody cares more about our country, and especially Montana."
Tester's Republican rival, Matt Rosendale, called the poster "disgusting and reprehensible." "It's time for Jon Tester to denounce this act of violence and blatant display of extremism!" he added.
Turn the page to view the piece: