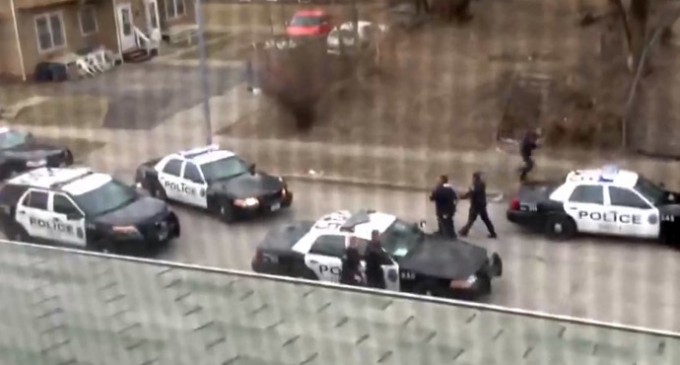 The rise of the police state and police brutality in this country continues unabated.
Watch this shocking video of a man in Omaha, NE who was choked and punched in the face by cops over a mere parking violation. You can see clearly in the video the man made no threats whatsoever and was obviously brutalized by these officers.
"He went around my neck, threw me to the ground, choked me out to the point where I couldn't breathe or speak," Johnson told KPTM-TV in Nebraska. "The officer told me to stop resisting, punched me in the face and said 'do you want to die today.'"
Officers also broke into a home and seized video evidence of the scene, but another video has surfaced.
The family has filed suit against dozens of police officers.
This isn't the story of one lone officer committing brutality, there were dozens complicit in the crime.
A Nebraska family filed suit Monday against dozens of police officers alleging that they turned a parking violation into a rough arrest and violating the family's constitutional rights by breaking into a nearby home and confiscating video of the incident.

Four Omaha police officers initially responded to a complaint on March 21, 2013 that Octavius Johnson had parked his truck in the wrong area of the street. A video of the incident recorded from an upstairs window shows police throwing Johnson to the ground and punching him multiple times as a number of other officers rush to the scene.

"He went around my neck, threw me to the ground, choked me out to the point where I couldn't breathe or speak," Johnson told KPTM-TV in Nebraska. "The officer told me to stop resisting, punched me in the face and said 'do you want to die today.'"

Another officer pushes Octavius' brother Juaquez, who is filming the arrest on a camera phone, away from the scene. Juaqeuz then escapes the officer's grasp and sprints into a neighbor's home and is chased by a handful of police, who eventually confiscated his phone.

That video – which is thought to have been destroyed – has never been made public. Yet the video captured from upstairs quickly went viral after the incident, inspiring community demonstrations and eventually the dismissal of the four officers caught on film. Criminal charges were brought against two of those patrolmen for either tampering with evidence or being an accessory.

Octavius, 28, was arrested and charged with resisting arrest and disorderly conduct, while Juaquez, 23, was charged with obstructing officers and disorderly conduct.

"Many of the police actions that took place that day are in violation of our policies and do not represent how I want our officers to conduct themselves," Omaha Police Chief Todd Schmaderer told reporters at a press conference days later. "The final resolution will be fair to the citizens of Omaha, the Omaha Police Department and the specific employees involved so that we can move forward and restore any public trust that may have eroded with this incident."

If the Omaha police have rectified the situation, it has not been enough of an effort to satisfy the Johnson family. With help from the American Civil Liberties Union (ACLU) they filed suit seeking damages for the anxiety and depression that have surfaced in the months since. Eight officers were named in the suit and another 24 were unnamed.

"This incident will live with our family for the rest of our lives," said Sharee Johnson, mother of the two young men. "None of us can call 911 when we need help and believe that police would be there to help us. We live in a city where we feel we have no protection."

Octavius Johnson, the man tackled from behind, told Omaha's KMTV that he's grateful a childhood friend was able to capture the incident on video.

"I think we all know what would have happened if he wasn't there," he said. "It would have been swept under the rug."