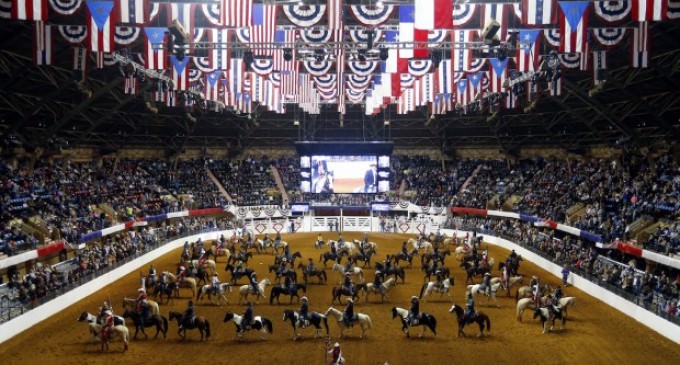 Many cowboys and cowgirls left the Fort Worth Stock Show and Rodeo earlier this year left outraged because the opening prayer was carried out by Imam Mouthed Bakhach.
For some reason, organizers felt it would be a good idea to diversify who delivered the prayer, and for most including a Muslim was going to far.
So who's the genius that thought this would be a good idea? Tensions in Texas have certainly been heating up between Muslims and 'infidels' as evidenced by mounting protests.
"I just will choose NOT to go somewhere that embraces a religion that wants me, my family and my people DEAD," one individual wrote on the rodeo's Facebook page, according to the Star Telegram.

"Muslim/Islam has no place in this country let alone fwssr. Not one Muslim has come out against the radical actions that is the Muslim belief. PERIOD. COWBOYS DON'T WANT IT," another reportedly commented.

"This really disappoints me in the FWSSR! Sad to see such a Texas & American institution fall in the gutter of political correctness," yet one more person echoed.

As noted by The Dallas Morning News, outrage did not appear directed at Bakhach's comments, but simply at the inclusion of someone who belonged to the Muslim faith.

Nevertheless, according to the Star Telegram, Bakhach said he sensed a "beautiful spirit" at the venue Sunday and thought the prayer went well.

"I didn't hear any negative reaction to what I said," he told the Star-Telegram. "I sat down to watch the show."

"I didn't hear any negative reaction to what I said."

The president and general manager of the rodeo, Brad Barnes, said he found the Muslim Imam's comments to be "spot-on" and "very appropriate."

Others also defended him on Facebook.

"Kudos to FWSSR for leading the way and understanding that America is a country of immigrants. Thanks for showing love and not hatred by showing tolerance for all religions; as Freedom of Religion applies to every American, even if they don't look like you or believe what you believe," one person wrote.

"The ignorance here," another echoed. "You all should be ashamed of yourselves."

The Stock Show will continue through mid-February.