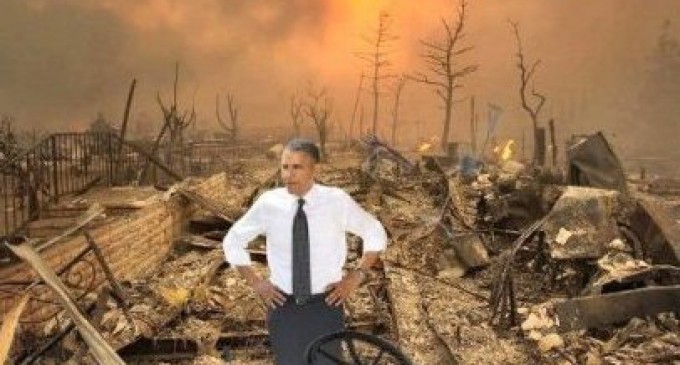 THREE PAGES WEREN'T ENOUGH TO CONTAIN ALL THE MISDEEDS. HERE'S PAGE 4:
• The pastor whom Obama selected to give the national benediction at his 2009 inauguration recently declared that "all white people are going to Hell."
• Sided with Hugo Chavez and the Castro regime regarding the Honduran Constitutional Crisis of 2009, the first time ever that the U.S. formed a political alliance with socialist governments in Latin America.
• Obama Administration OKed the nomination of Chas Freeman to chair the National Intelligence Council (which coordinates intelligence reports from all government agencies), despite the fact that he was openly hostile to Israel and strongly favored Arabist goals. (He later withdrew under pressure.)
• Chinese pianist Lang Lang played an offensively anti-American song at a 2011 White House dinner where Obama hosted Chinese president Hu Jintao, to the delight and amazement of the communist Chinese visitors, while Obama just sat there and smiled (the song's Chinese lyrics describe Americans as "warmongering jackals").
• There was a great deal of (still unverified) suspicion that the company LightSquared received favorable treatment from the Obama administration for approval of its broadband technology which interfered with the GPS system; an Air Force general claimed he was pressured by the Obama administration to downplay his criticism of LightSquared's technology in sworn testimony.
• Obama's Department of Energy awarded $529 million to Fisker Automotive to build their Karma hybrid electric cars — even though they are manufactured in Finland, cost over $100,000 each, and tend to explode.
• When Inspector General Gerald Walpin discovered during a 2009 investigation that one of Obama's political allies (the mayor of Sacramento) was misusing government funds for personal gain, Obama unceremoniously fired Walpin — even though rooting out fraud was the job description of the Inspector General.
• More than once Obama made so-called "recess appointments" when the Senate was not actually in recess, which directly violates Constitutional rules about how appointments must be made; in each case it was his way of getting his political allies into certain key positions without them being vetted or approved by the Senate, as required.
• After Nidal Malik Hasan massacred 13 people at Fort Hood while shouting "Allahu Akbar" so as to become a martyr for Islam, the Obama administration refused to classify his action as "terrorism" and instead deemed it merely "workplace violence."
• Despite the fact that the Falkland Islands have been part of Great Britain since 1833 and that Great Britain is supposed to be our strongest ally, Obama essentially sided with Argentina in its new claim on the Falklands, not only by adopting the Argentine position that their status is open to negotiation, but even by (attempting to) refer to the islands by their Spanish name (Malvinas).
• Convened the National Commission on Fiscal Responsibility and Reform (a.k.a. the Simpson-Bowles commission) in order to address a major economic crisis…and then summarily dismissed and ignored their recommendations.
• Criticized the Supreme Court's legal reasoning (about the Citizen's United decision) during a State of the Union address, which many considered a dangerous precedent as it appeared to place political pressure on the court, violating the Constitution's separation of powers; but his bullying seems to have later paid off, when the Supreme Court apparently altered its Obamacare decision so as to not ruffle any political feathers.
• On April 27, 2009, Obama's staff (possibly at his direction) ordered Air Force One to make an unnecessary very low flight over part of Manhattan and the Statue of Liberty, which many residents mistakenly assumed must be a second 9/11 attack in progress; turned out that it was just a stunt to get a photo op of Obama's plane next to the Statue of Liberty.
• Obama somehow managed to insert mentions of himself into the official biographies of earlier presidents on the White House Web site — even presidents from the 19th century. After public outcry, the narcissistic Obama mentions were quietly removed without comment.
• Intentionally misquotes the Declaration of Independence in speeches, often leaving out the words "by their Creator" in the famous passage "…are endowed by their Creator with certain unalienable rights," which Obama instead has recited as "…are endowed with certain unalienable rights."
• In June of 2009, Obama's Solicitor General (and now Supreme Court Justice) Elena Kagan filed a legal brief to prevent the families of 9/11 victims from appealing their lawsuits against the Saudi royal family for financing the 9/11 attacks.
• The 2009 National Christmas Tree in the White House was decorated with ornaments depicting Chairman Mao, a drag queen, and a picture of Mount Rushmore that included Obama's own head next to George Washington's.
• Compelled Catholic and other religious organizations to provide health plans with free contraception, even though such requirements violate their rights of religious freedom and conscience.
• It was revealed only after Obama became president that during the 1990s he was a leading member of the "New Party," a socialist-aligned far-left radical group in Chicago.
• Lied about his close associations with former Weather Underground terrorist Bill Ayers; pretended the two barely knew each other, when multiple sources document they were friends and close colleagues for years.
• When Obama was inaugurated as President on January 20, 2009, he at first flubbed the oath of office, so he had to re-take it behind closed doors for his inauguration to be valid. He did so, but during this second, true inauguration in private, he purposely failed to place his hand on a Bible, as is traditional — the first president ever to not swear the oath of office on the Bible.
• Obama's own author bio in his literary agent's catalog and on their Web site stated for 17 consecutive years that he was born in Kenya; this claim remained intact despite other portions of the bio being altered and updated repeatedly. It was only in 2007 after he decided to run for the presidency that the "born in Kenya" claim was taken down. The original info must necessarily have come from Obama himself; some theorize he likely falsely claimed foreign birth in order to gain admission or scholarships in college, and never bothered to fix his lie.
• After winning the 2008 election but before being sworn in, Obama bombastically concocted the official-seeming "Office of the President-Elect" as if it was some kind of real government department; in fact, it was just a self-congratulatory title he made up to look important before he actually became president.
• Obama administration came up with the bizarre euphemism "man-caused disasters" to describe acts of terrorism — because he wants to downplay terrorism as a significant political issue.
• For three years in a row his official budget proposals to Congress received exactly zero votes — not even a single vote from Democrats.
• Relied on an Islamic fundamentalist militia group called "The Martyrs of the February the 17th Revolution Brigade" to provide security at the American mission in Benghazi — and they not only failed to prevent the attack but perhaps even joined in on it.
• During the debate over Obamacare in 2009, Obama bluntly stated that doctors like to perform amputations rather than practice preventive medicine for no other reason than that they make a greater profit from amputations. The American College of Surgeons demanded an apology, which never arrived.
• Since 2008 the Los Angeles Times has been in possession of a videotape showing Obama honoring and praising anti-Western anti-Israel academic Edward Said, but they have steadfastly refused to release it to this day, for no discernible reason other than their belief it would damage Obama's reputation.
• When the Organization for Security and Co-operation in Europe recently held a conference on human rights, Obama sent an American representative — Salam al-Marayati, a Truther who blamed Israel for the 9/11 attacks and who also praises Hezbollah and Hamas. To the nations of Europe, al-Marayati spoke for all Americans on the topic of human rights.
• Obama's Department of Homeland Security specifically warned that Americans who are "dedicated to a
single issue, such as opposition to abortion or immigration" are potential terrorists, as are libertarian-minded voters who "favor of state or local authority" over centralized power. These "rightwing extremists" (who hold political beliefs shared by a majority of Americans) are deemed a greater threat to the nation than actual revolutionaries or jihadists.
• While campaigning in 2008 Obama declared that it was "unpatriotic" that Bush had increased the national debt at a rate of half a trillion dollars per year; but under Obama the rate of national debt increase has accelerated to almost three times the Bush rate ($6 trillion in new debt in under four years) — yet Obama has never apologized nor declared himself unpatriotic.
• For decades, every president has attended a "daily intelligence briefing" which updates him on critical world events each morning. Obama has skipped 60% of his daily intelligence briefings, including the ones leading up to the attack in Benghazi.
SADLY, THESE ARE JUST A FRACTION OF OBAMA'S MISDEEDS. CLICK TO GO BACK FOR MORE OR LEAVE A COMMENT BELOW IF YOU THINK OF ANY WE MISSED!