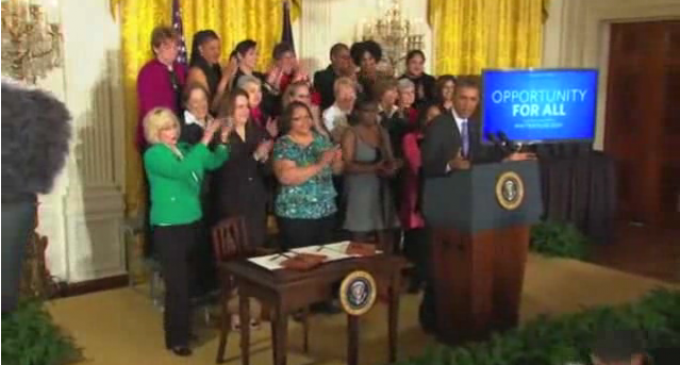 Obama's latest mandate will force federal contractors to tell the government what their employees earn, broken down by race and sex, under the guise of equal pay for women.
Although equal treatment is an admirable goal, using federal control and spying to achieve it only serves to empower an already unconstitutional, tyrannical federal government.
President Obama's unilateral move Tuesday to try to close the pay gap between the sexes will force federal contractors to tell the government what their employees earn, broken down by race and sex, giving the administration extraordinary new powers to pursue discrimination cases.

One legal analyst said the two orders Mr. Obama issued would drive up the costs of federal contracts, leaving taxpayers stuck with higher bills. Businesses feared the orders would lay ground for the government to take legal action against them.

---

SEE ALSO: In a reversal, more moms staying home with the kids

---

"Equal treatment is an admirable goal, but smaller companies who already have difficulties competing with larger firms for federal contracts are now going to need to consider a new set of issues: reporting compliance, the ability to award merit pay or the possibility of wage data being used as grounds for discrimination lawsuits," said Simon Brody, a spokesman for the National Association of Government Contractors, which represents firms doing business with the federal government.

Mr. Obama issued the orders in conjunction with Equal Pay Day, telling the Labor Department to write rules requiring businesses that take federal contracts to report their employees' salaries — though he said he wanted the effect on small businesses to be minimized.

"America should be a level playing field, a fair race for everybody, a place where anybody who is willing to work hard has a chance to get ahead. And restoring that opportunity for every American, men and women, has to be a driving focus for our country," Mr. Obama said during a speech in the East Room of the White House, where he was flanked by about a dozen women. "We don't have second-class citizens in this country, certainly not in the workplace."

Enlarge Photo

President Barack Obama signs executive actions, with pending Senate legislation, aimed at … more >

Beyond requiring companies to open their books, the president barred federal contractors from retaliating against employees who discuss their salaries openly.

The White House said the measure is designed to provide "a critical tool to encourage pay transparency, so workers have a potential way of discovering violations of equal pay laws and are able to seek appropriate remedies."

The actions are the latest example of Mr. Obama using his direct authority in the arena of government contracts to pass partial proposals he cannot get through Congress. Earlier this year, he signed an order requiring all federal contractors to pay their employees at least $10.10 per hour after it became clear there would be no general increase in the minimum wage.

But by trying to drive social change and provide equal pay for women through the contracting process, analysts said, the government will end up spending more to hire contractors.

"It is disappointing to see additional cost drivers or inefficiencies imposed upon on the procurement process at a time when the same administration — and, more broadly, the government — claims to be concerned with squeezing savings out of the system," said Steven Schooner, co-director of the Government Procurement Law Program at George Washington University Law School.

"The bottom line is simple: Imposing social policies on the procurement process drives up the prices the government pays for the goods and services it buys," said Mr. Schooner, who served in the White House Office of Management and Budget and in the Justice Department.

While promoting equal pay, the White House also has had to contend with charges that it isn't practicing what it preaches.

A study last year by the American Enterprise Institute found that male White House staffers earned a median salary of $73,729, while female employees earned $65,000.

The administration's explanation for the discrepancy is that lower-paid positions may be filled by more women than men, but those who hold the same jobs are paid equally regardless of their sex.

There also are many questions surrounding the White House's and Mr. Obama's repeated contention that women are paid, on average, 77 cents for every dollar a man earns.