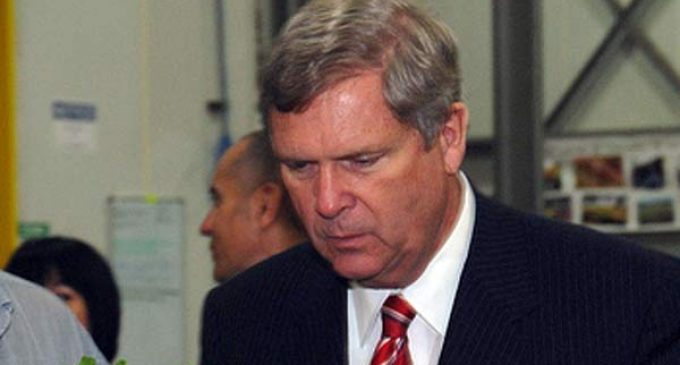 Agriculture Secretary Tom Vilsack reminded America on Wednesday what the Obama government thinks of Congress:
"I think we're trying to work with Congress when we can and when they can't or won't, we're going to continue to act. That's what I think the American public wants us to do."
In other words, the president and his administration will consider the wishes of Congress when it's convenient and when Congress seems likely to cooperate. The rest of the time Obama and his lawless team will pretty much do what they want, ignoring the checks and balances established to moderate the executive branch.
Continuing the Obama administration's shunning of Congress, Agriculture Secretary Tom Vilsack heralded the unilateral establishment "climate hubs" across the country.

"These climate action hubs are really part of the president's climate action plan and its directive of us to actually act, not wait for Congress, not wait for laws to be passed, but to do it on our own," Vilsack said at the White House Wednesday.

Regional Hubs for Risk Adaptation and Mitigation to Climate Change will be located in seven locations around the country, Vilsack told reporters. He said farmers and ranchers have a direct interest in combating climate change because of the adverse impacts of storms and droughts on land.

The climate hubs are supposed to address and mitigate the risks fires, invasive pests, floods and droughts on a regional basis to assist farmers, ranchers, and forest landowners. The hubs are also designed to link a network of universities, non-governmental organizations and federal agencies such as the Department of Interior and the National Oceanic and Atmospheric Administration and state agencies.

Responding to a question about being dismissive of Congress, Vilsack stressed that the administration worked with Congress to push the recent farm bill through which President Barack Obama is set to sign.

"As the president has said repeatedly, if there is an opportunity to work with Congress, we will work with Congress, and we did," Vilsack said. "We've been waiting a while for Congress to work on climate. Fair enough. There are multiple reasons why they haven't. But in the meantime, we're going to take action because 51 percent of the land mass of the United States is a lot of land. It's over 1.2 billion acres of land."
Photo: USDA NRCS on Flickr