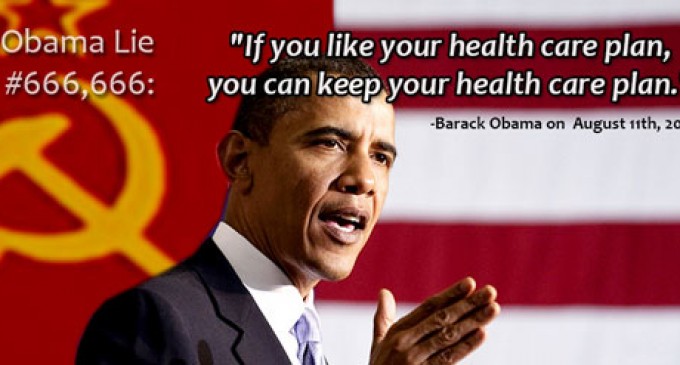 These plans are being cancelled hoping that the people losing their policies will buy Obamacare plans instead.
However, based on the performance of the state exchanges & federal government's website, most of them don't seem to be buying new plans, of course, many can't with the roll out failures.
While those that can and do face higher costs!
Obama lie number 666,666: "If you like your health care plan, you can keep your health care plan."
Barack Obama on Tuesday, August 11th, 2009 in a town hall meeting
"Florida Blue, for example, is terminating about 300,000 policies, about 80 percent of its individual policies in the state.

Kaiser Permanente in California has sent notices to 160,000 people – about half of its individual business in the state.

Insurer Highmark in Pittsburgh is dropping about 20 percent of its individual market customers, while Independence Blue Cross, the major insurer in Philadelphia, is dropping about 45 percent." "Blue Shield of California sent roughly 119,000 cancellation notices out in mid-September, about 60 percent of its individual business.

About two-thirds of those policyholders will see rate increases in their new policies, said spokesman Steve Shivinsky." "The arithmetic is inescapable," said Patrick Johnston, chief executive officer of the California Association of Health Plans.

Costs must be spread, so while some consumers will see their premiums drop, others will pay more — "no matter what people in Washington say."