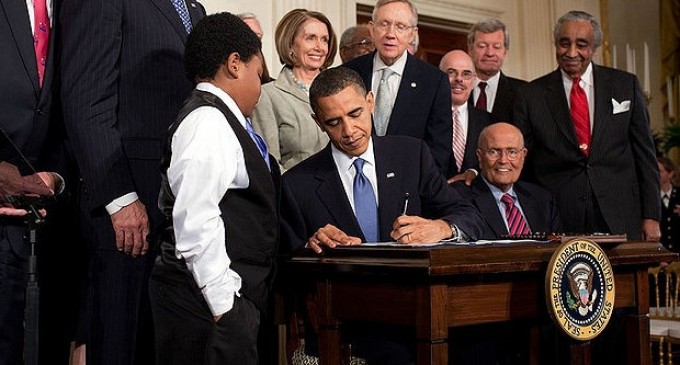 Prediction: Unless something as dramatic as martial law happens, this act will be overturned.
The Obama administration is bringing in too much oppression too quickly for the average American to stomach.
I think it's to the point where even removing such harsh penalties would not turn the rising tide against this oppressive legislation.
A man who attempted to sign up for Obamacare online was told that a fine of over $4,000 dollars a year for refusing to take out mandatory health insurance could be taken directly from his bank account, and that his drivers license would be suspended and a federal tax lien placed against his home, according to an entry on the HealthCare.gov Facebook page.

If true, the implementation of Obamacare is going to be a whole lot more draconian than Americans have been led to believe.

Will Sheehan claims that when he tried to sign up for Obamacare and then register to opt out, he received an ominous warning.

Sheehan's full Facebook post reads; "I actually made it through this morning at 8:00 A.M. I have a preexisting condition (Type 1 Diabetes) and my income base was 45K-55K annually I chose tier 2 "Silver Plan" and my monthly premiums came out to $597.00 with $13,988 yearly deductible!!! There is NO POSSIBLE way that I can afford this so I "opt-out" and chose to continue along with no insurance. I received an email tonight at 5:00 P.M. informing me that my fine would be $4,037 and could be attached to my yearly income tax return. Then you make it to the "REPERCUSSIONS PORTION" for "non-payment" of yearly fine. First, your drivers license will be suspended until paid, and if you go 24 consecutive months with "Non-Payment" and you happen to be a home owner, you will have a federal tax lien placed on your home.

You can agree to give your bank information so that they can easy "Automatically withdraw" your "penalties" weekly, bi-weekly or monthly! This by no means is "Free" or even "Affordable." Sheehan went on to point out that the site makes you input all your personal information before giving you an indication of the costs, meaning a database of the "uninsured" is being built. He added that he could not afford to pay the premium so would have to break the law and pay the fine, leaving him with no health care coverage.