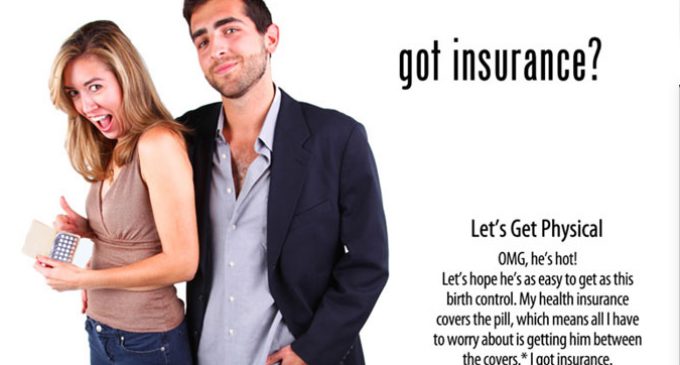 Democratic-based group Progress Now is propagandizing Obamacare as a way to get free birth control.
A cabal of wealthy and influential Democrats, under the cover a Colorado-based group called Progress Now, are attempting to push Obamacare on young Americans through a salacious propaganda campaign.

"Got insurance?" an online ad posted on the Thanks Obamacare campaign website inquires. It then encourages young women to have sex and not worry about pregnancy because "health insurance [mandated by Obamacare] covers the pills."

According to Planned Parenthood, under Obamacare private health insurance plans are offering birth control without co-pays or deductibles. Earlier this month, a U.S. appeals court ruled that the contraceptive provisions of Obamacare may violate religious freedom. The decision will likely end up before the Supreme Court.

Progress Now, operated under cover of nonprofit status, is funded by the Democracy Alliance, a Soros-linked political group founded by Rob Stein, a former Clinton Treasury official. A Muckety relationship map links the Democracy Alliance to a number of big players in the Democrat party and the progressive political network, including Drummond Pike, Media Matters, Young Democrats of America and, as previously noted, George Soros.