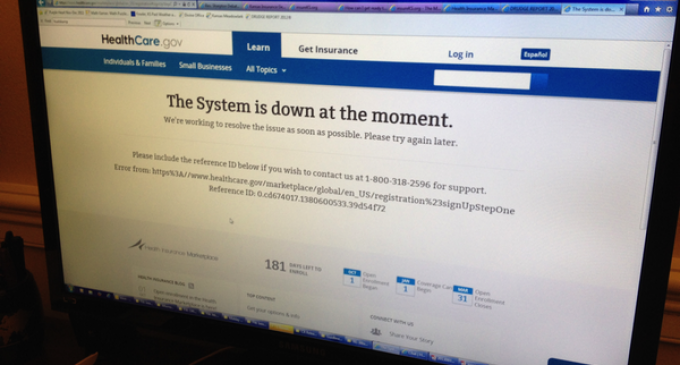 Minutes after the new ObamaCare system went online, Congressman Tim Huelskamp (R-KS), tweeted a photo showing the healthcare exchange website was experiencing various serious technical difficulties.
"We have been warned time and time again that ObamaCare is not ready for prime time. Well, it turns out that is right," Huelskamp commented.
"When I tried to sign up for the exchanges, I was met with error messages, unfinished security forms, and misspelled notices at every click," he said. "Seeing how poorly this has been implemented, I am surprised that Harry Reid and Senate Democrats are willing to shut down the government over a law that simply is unworkable, affordable, and increasingly unpopular."
Naturally, many mainstream news sites chose to criticize Huelskamp's presentation of the troubled health site rather than confront the issues he brought to light.
Previously, government officials reassured Americans that the system was ready for use:

"Shutdown or no shutdown, we are ready to go, to start enrolling people tomorrow," Health and Human Services Secretary Kathleen Sebelius said at a press conference Monday. "We are about to make some history and some very positive history for lots of families around the country."
Source: Breitbart
Photo: Twitter