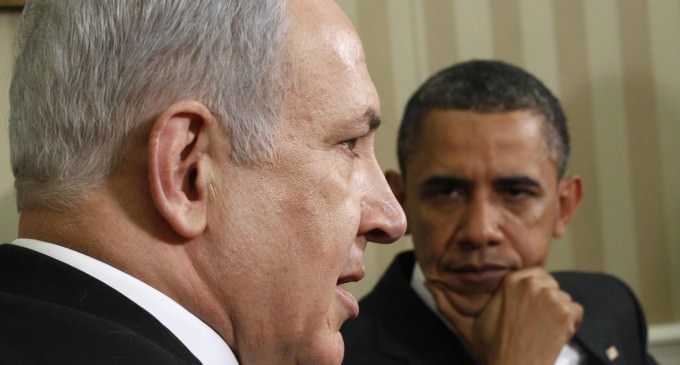 Obama wants to take down Israeli Prime Minister Benjamin Netanyahu and he's sending his former national field director for his 2012 re-election campaign, Jeremy Bird, over to Israel to do it.
Bird was schooled in the revolutionary tactics created by radical community organizer Saul Alinsky and has been very active in various leftist political schemes to transform the U.S. Now he will be sent as a paid consultant for the Israeli organization V15, which is working to defeat Netanyahu in the general elections coming up in March.
Bird has played a central role in a major organizing effort attempting to make Texas a swing state; in a political super PAC created to draft Hillary Clinton to the 2016 ticket; and an international anti-gun effort founded by former New York Mayor Michael Bloomberg, among many others.

Now Bird is taking his wildly successful Chicago-esque, Alinsky brand of community organizing to Tel Aviv, where the field specialist has been making headlines for his paid consultancy to V15, an Israeli organization working to defeat Prime Minister Benjamin Netanyahu in the general elections here in March.

V15 hired Bird's firm, 270 Strategies, to oversee the Israeli group's field and organizing efforts.

Israeli political campaigns are relatively unsophisticated compared to the political organizing machines that were the hallmarks of Obama's 2008 and 2012 presidential bids. Bird's field tactics, if deployed here in full force, have the potential to revolutionize the Israeli left's organizing abilities.

In a sit-down interview with WND at V15's campaign headquarters last week, the group's founder, Nimrod Dweck, conceded that Israelis lack organizing skills and that Bird and his firm have been central to divining V15's field operations battle plan.

"Israelis don't know how to run field (operations) as Americans (do), and that was the major contribution of Jeremy's team," Dweck said.

Bird has provided "very professional help about how to organize, manage people, how to go door-to-door, how to talk to people on the street."

The left-leaning Haaretz daily in Israel described Bird as V15's secret weapon" in its race to replace Netanyahu's right-leaning government with a center-left coalition.

Data mining

Bird did not reply to a request to be interviewed for this profile.

He is largely known for his 2012 campaign role, where he was central to building what he described as "the strongest grassroots organization in the history of American presidential politics."

He explained Obama's 2012 re-election infrastructure, aptly titled Organizing for America, had 631 offices in swing states alone, compared to challenger Mitt Romney's 282.

According to Politico, Obama's grassroots network — led by 270 Strategies' Bird and Mitch Stewart — encompassed "10,000 neighborhood team leaders, 30,000 core team members and 2 million volunteers."

Bird's re-election team reportedly utilized publicly available information on voters, collecting as many as "500 data points on a single voter, from his reading habits to his opinions on the economy," according to a 2013 Bloomberg profile.

Bird helped to pioneer what the campaign called "Airwolf," named after a 1980s TV series that centered on a high-tech military helicopter that engaged in espionage and data collection efforts.

For example, Bloomberg documented, "If a voter cared about bringing home troops from Afghanistan, and also worried about the economy, the campaign sent that voter the name of an Obama supporter she would know and provided more information to try to move her to the president.

"It was auto-generated and coded, and came from campaign headquarters even though, to the recipient, it looked like it came from their peer," added Bloomberg.

Alinsky trainer

Bird did undergraduate studies at Wabash College in Crawfordsville, Indiana, where he spent a semester abroad in Israel and reportedly took a keen interest in Israeli political activism.

"That's where I learned about politics," Bird said. "Ehud Barak was running against Benjamin Netanyahu; everybody was talking about it. It made me realize I didn't pay any attention to politics in the United States the way I should."

Barak was known for his leftist politics and would eventually offer PLO Leader Yasser Arafat a state in the West Bank, Gaza Strip and eastern Jerusalem. According to reports, Barak conceded sections of the Temple Mount, Judaism's holiest site. Arafat rejected the offer and instead launched an intifada, or terrorist war, targeting Israeli civilians.

Bird attended graduate school at Harvard Divinity School in Cambridge, Massachusetts. He also enrolled in courses at the John F. Kennedy School of Government.

Bloomberg reported Bird enrolled in Harvard professor Marshall Ganz's course "Organizing: People, Power, and Change." Ganz became somewhat of a mentor to Bird and helped launch his organizing career.

Bird became a teaching assistant for Ganz at the time the professor was serving as an adviser to Howard Dean's 2004 presidential campaign. Dean broke new ground, as Bloomberg noted, by running one of the first presidential campaigns to merge grassroots organizing with new technology.

Ganz was so impressed by Bird he sent him to work on Dean's campaign so that Bird would gain experience utilizing "organizational techniques — similar to the ones Ganz used with farm workers in California in the 1980s — to affect electoral politics," Bloomberg reported.

What the news agency failed to note is that Ganz, who pioneered the organizing and volunteer network for Obama's 2008 presidential campaign, is a radical Alinsky community organizer.

Ganz is a former civil rights activist and staff member for the Student Nonviolent Coordinating Committee who worked with César Chavez and the United Farm Workers beginning in 1965.

In 1980, Ganz became UFWs director of organizing. In 1991, Ganz returned to Harvard to complete his undergraduate degree in history and government. In 1993, he earned an MPA from the Kennedy School and completed his Ph.D. in sociology in 2000.

In California, Ganz was "mentored by figures from Saul Alinksy's community organizing movement," skills he put to use in the Obama campaign to train organizers, reported the Huffington Post.

Ganz was introduced to the Obama campaign through Kennedy School colleague Samantha Power, then one of Obama's senior foreign policy advisers.

In April 2007, reportedly met with Obama and then senior strategist David Axelrod at Harvard.

The Nation Magazine profiled Ganz: "After a series of meetings, Ganz was charged with the task of setting up a Camp Obama network, intensive community organizing–style training camps in which young people would be taught to tell Obama's story, to spread a message and generate the enthusiasm of a true grassroots movement.

"Its success was phenomenal, ultimately generating one of the most effective and broad-based presidential campaigns in American history."

Ganz also reportedly held two-day leadership training groups for "Camp Obama," the president's 2008 volunteer organization. He was instrumental in designing the initial field organizing and volunteer training infrastructure used by Obama's first campaign.

Following the 2008 election, Ganz became critical of Obama's slow pace at enacting progressive change.

Speaking to Bloomberg, Ganz recalled of Bird: "He seemed very earnest and, how can I say, looking for something real as opposed to theoretical, flaky sort of thing."

Ganz told the news agency that Bird's "calling is about engaging people in acting together in ways that they can alter their own life circumstances and that of the world around them. That's always been important to Jeremy, trying to sort through 'how does my calling translate into a career.'"

Exporting Obama model

After the 2012 campaign, Bird founded 270 Strategies with his colleagues from the Obama re-election team.

270 Strategies' team of 45 staffers includes 16 members who worked directly for Obama's campaigns. Most of the former Obama staffers hold the senior posts at the firm. Others worked for the Democratic Party, the Democratic National Committee or grassroots groups involved in progressive efforts, including a group to enroll Americans in Obamacare.

When the firm was founded last year, 270 Strategies brandished its leaders' central role in Obama's reelection campaign as part of a pitch to clients.

"We're building 270 Strategies to bring the empowering Obama grassroots model to your campaign," the group announced.