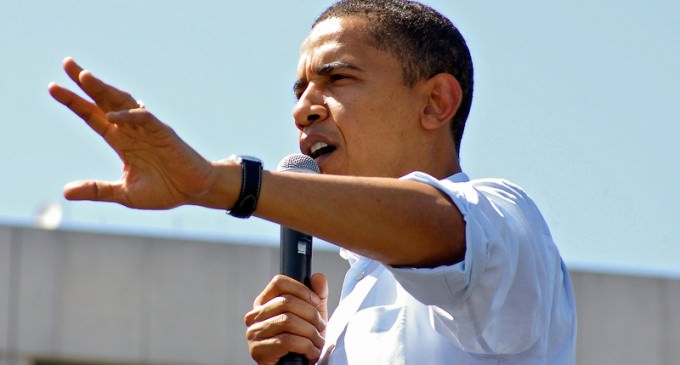 Obama is currently seeking an emergency court order, known as an stay, that would undo the injunction by Texas federal judge Andrew Hanen ordered earlier this week.
If Obama gets his stay, he will be able to move forward with his executive amnesty actions.
Yes, somehow it's such a big emergency to protect law breaking immigrants that it's necessary to immediately overturn a federal judge's orders.
If our President would only fight for Americans in such a manner…but that could only be a reality in a completely opposite, parallel universe…
White House press secretary Josh Earnest said DOJ will file for the stay by "Monday at the latest."

The emergency stay had been sought by immigrant rights advocates, who want to get the programs up and running as soon as possible while the appeals process plays out.

"We — as immigrants and as Americans — have waited for nearly a quarter century for these much-needed improvements to our broken immigration system," Marielena Hincapié, head of the National Immigration Law Center (NILC), said Friday in a statement. "We should not allow a flawed legal decision to delay these changes any longer."

Making good on earlier vows, DOJ will also file a separate appeal seeking to restart the executive programs.

"We will seek that appeal because we believe when you evaluate the legal merits of the arguments, that there is a solid legal foundation for the president to take the steps he announced last year to help reform our immigration system," Earnest said.

At issue are two new initiatives launched unilaterally by Obama on Nov. 20.

The first expands eligibility for the president's 2012 Deferred Action for Childhood Arrivals (DACA) program, which halts deportations and allows work permits for certain undocumented immigrants brought to the country as children. The second, known as DAPA, would extend similar benefits to the parents of U.S. citizens and permanent legal residents.

Combined, the programs could affect as many as 5 million immigrants living in the country illegally.

Republicans are seeking to stop both of Obama's executive actions in a funding bill for the Department of Homeland Security, but the bill has been blocked repeatedly by Senate Democrats, raising the possibility of a partial government shutdown next week.

Rep. Lamar Smith, a Republican from Texas and former Judiciary Committee chairman, ripped Obama's request for an emergency stay, saying it's "no surprise that the most partisan and imposing Department of Justice of our time would rush to defend the president's lawless actions."

"Putting a stop to these overreaching executive actions isn't about Republicans or Democrats; it's about respecting and restoring the rule of law. This is why it's even more important that Senate Democrats stop playing politics with the Constitution and stop blocking House legislation that would halt the president's executive overreach."

Many states have objected to Obama's policies as well. And Texas — joined by 25 other states — filed a lawsuit contending the programs marked an abuse of executive authority that would cripple their budgets with exorbitant new costs.

In a decision announced near midnight on Monday, U.S. District Judge Andrew S. Hanen agreed, arguing that the administration failed to comply with a federal law governing the adoption of new federal rules.

Hanen has not yet ruled on the merits of the states' complaints, but said they have a significant enough case that both the DAPA and expanded DACA programs should be put on hold until the legal challenges are resolved.

The effects of the decision were immediate, as administration officials quickly announced that they would not begin accepting applications for either program until the court decisions are final.

Before the ruling, the Homeland Security Department was poised to begin accepting applications for the expanded-DACA program this week, and the for the DAPA program in May. Both have been suspended indefinitely.

Hanen's injunction does not affect the original DACA program, which remains up and running.