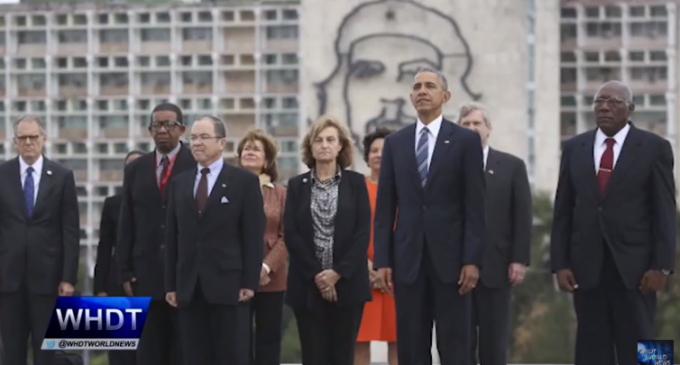 If you've been paying attention to the news in the past couple of days, you're no doubt aware of President Obama's visit to Cuba, where he posed for photographs in front of a spray painted image of the infamous revolutionary, Che Guevara. The president stood with members of the American delegation to Cuba after placing a wreath at the Jose Marti monument in Revolution square. This is an attempt to cozy up to Cuba after years of much deserved hostilities between them and the United States.
Revoultion Square also features an image of Camilo Cienfuegos, another revolutionary who fought with Fidel  Castro, the snake poised to bite our foolish leader the moment he turns his back. In some photographs taken by a photographer from the Associated Press, President Obama is standing front and center beside Secretary of State John Kerry. To the right of them is Salvador Valdes Mesa, the Vice President of Cuba's State Council.
Watch a video of the president discussing where to place people in the photograph.