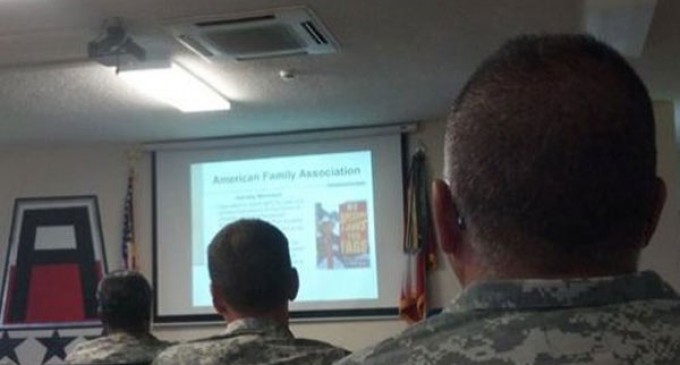 Last year Muslim extremists attacked the American diplomatic outpost in Libya.
President Obama responded:
Since our founding, the United States has been a nation that respects all faiths. We reject all efforts to denigrate the religious beliefs of others.
Apparently, that respect for all faiths has now changed because the US Army is classifying a Christian ministry, the American Family Association, as a 'domestic hate group'.
Several dozen U.S. Army active duty and reserve troops were told last week that the American Family Association, a well-respected Christian ministry, should be classified as a domestic hate group because the group advocates for traditional family values.

The briefing was held at Camp Shelby in Mississippi and listed the AFA alongside domestic hate groups like the Ku Klux Klan, Neo-Nazis, the Black Panthers and the Nation of Islam.

A soldier who attended the briefing contacted me and sent me a photograph of a slide show presentation that listed AFA as a domestic hate group. Under the AFA headline is a photograph of Westboro Baptist Church preacher Fred Phelps holding a sign reading "No special law for f***."

American Family Association has absolutely no affiliation with the controversial church group known for picketing the funerals of American service members.
American soldiers must now question whether their innocent affiliation with the American Family Association places them at risk of discipline under the Uniform Code of Military Justice.
Isn't it time the government started treating Americans – especially our patriotic servicemen – with the same respect and deference it shows to those who mean us harm?
Source: Fox News
Photo: Moonbattery