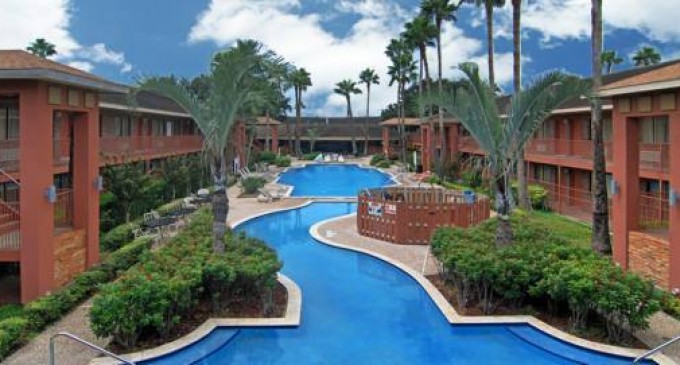 Obama has granted $50 million to a charitable group to renovate the Palm Aire resort and hotel in Weslaco, Texas to house illegal minors.
The facility will have two outdoor swimming pools, a Jacuzzi, sauna, steam room, racquetball courts, outdoor tennis courts, and a fitness center. When is the last time you stayed in such a nice resort?
The facility will only house 600 minors at one time, yet they are pouring into this country by the tens of thousands.
Obviously, this facility will provide very little overall relief to our governmental systems or these minors. Seeing how Obama created this crisis and wants to continue to pull illegals into the country, this resort will probably be used as some sort of propaganda to entice even more people in Central America to come here.
"Come to America and you will receive luxury accommodations courtesy of Obama and the Democrats…who you should vote for in all coming elections."
The Palm Aire Hotel and Suites is set to be sold to Baptist Child & Family Services (BCFS) operating under a federal contract, pending local government approval, according to reports from Weslaco, Texas where the hotel is located. Weslaco is a few miles north of the Rio Grande in Hidalgo County.

The resort hotel for illegal alien children is reportedly the 'first in the nation'.


The Palm Aire includes tennis courts, a laundromat and a snack bar.

The plan is to have the hotel ready for illegal alien children ages 12 to 17 by October 1st of this year, a mere two-and-half months from now. It is expected the average stay will be about fifteen days.

The Palm Aire Hotel and Suites currently advertises amenities such as two outdoor swimming pools—one Olympic sized—Jacuzzis, sauna, steam room, two racquetball courts, outdoor tennis courts, picnic area with grills and a fitness center with twenty machines and free weights.


A luxurious fitness center is on site at the Weslaco Palm Aire Hotel and Suites. Guests can also wind down in the sauna after a long trip.

Attracted to the space for outdoor recreation at the Palm Aire Hotel and Suites, BCFS spoke of building a soccer field at the hotel and adding a perimeter fence.

BCFS plans to employ 650 people at the Palm Aire Hotel and Suites, which would mean slightly over one worker per illegal alien child. According to the BCSF Website, the charity's jobs pay from $10 to $45 per hour.

KRGV-TV quoted a BCFS spokeswoman about the purpose of buying the Palm Aire Hotel and Suites:

"It's going to be an intake facility, which serves as a lot like a hospital emergency room," Krista Piferrer, BCFS VP External Affairs said.

""We've all seen the photos and the videos of children in crowded Border Patrol facilities. What this site is going to allow to happen is quickly move those children out of Border Patrol cells and triage them," Piferrer said."

BCFS plans for the facility to be "completely self-contained" with Piferrer telling KRGV-TV, 'medical staff will be on hand so children with diseases or injuries will not be transferred to local hospitals.'