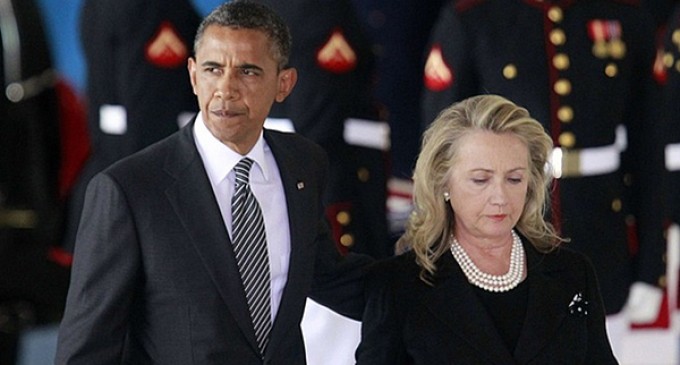 The Citizens Committee on Benghazi, an independent group of former top military officers and CIA members stated on Tuesday that if the U.S. hadn't been arming al-Qaeda militias the Benghazi attack that killed 4 Americans could have been prevented.
'The United States switched sides in the war on terror with what we did in Libya, knowingly facilitating the provision of weapons to known al-Qaeda militias and figures,' stated Clare Lopez, a member of the commission and a former CIA officer.
'Remember, these weapons that came into Benghazi were permitted to enter by our armed forces who were blockading the approaches from air and sea,' Lopez also claimed. 'They were permitted to come in. … [They] knew these weapons were coming in, and that was allowed..
'The intelligence community was part of that, the Department of State was part of that, and certainly that means that the top leadership of the United States, our national security leadership, and potentially Congress – if they were briefed on this – also knew about this.'
'Some look at it as treason,' stated former CIA officer Wayne Simmons.
Basically, Obama armed al-Qaeda to topple Gaddafi, WHILE Gaddafi was verifiably surcumbing to US demands. Obama prefered to give arms to his terrorist buddies, which they used to kill Americans, rather than allowing for a peaceful resolution that was already in progress.
Benghazi attack could have been prevented if US hadn't 'switched sides in the War on Terror' and allowed $500 MILLION of weapons to reach al-Qaeda militants, reveals damning report.

Citizens Committee on Benghazi claims the US government allowed arms to flow to al-Qaeda-linked militants who opposed Muammar Gaddafi
Their rise to power, the group says, led to the Benghazi attack in 2012
The group claims the strongman Gaddafi offered to abdicate his presidency, but the US refused to broker his peaceful exit
The commission, part of the center-right Accuracy In Media group, concluded that the Benghazi attack was a failed kidnapping plot
US Ambassador Chris Stevens was to be captured and traded for 'blind sheikh' Omar Abdel-Rahman, who hatched the 1993 WTC bombing plot

The Citizens Commission on Benghazi, a self-selected group of former top military officers, CIA insiders and think-tankers, declared Tuesday in Washington that a seven-month review of the deadly 2012 terrorist attack has determined that it could have been prevented – if the U.S. hadn't been helping to arm al-Qaeda militias throughout Libya a year earlier.

'The United States switched sides in the war on terror with what we did in Libya, knowingly facilitating the provision of weapons to known al-Qaeda militias and figures,' Clare Lopez, a member of the commission and a former CIA officer, told MailOnline.

She blamed the Obama administration for failing to stop half of a $1 billion United Arab Emirates arms shipment from reaching al-Qaeda-linked militants.

'Remember, these weapons that came into Benghazi were permitted to enter by our armed forces who were blockading the approaches from air and sea,' Lopez claimed. 'They were permitted to come in. … [They] knew these weapons were coming in, and that was allowed..

'The intelligence community was part of that, the Department of State was part of that, and certainly that means that the top leadership of the United States, our national security leadership, and potentially Congress – if they were briefed on this – also knew about this.'

The weapons were intended for Gaddafi but allowed by the U.S. to flow to his Islamist opposition.

The White House and senior Congressional members,' the group wrote in an interim report released Tuesday, 'deliberately and knowingly pursued a policy that provided material support to terrorist organizations in order to topple a ruler [Muammar Gaddafi] who had been working closely with the West actively to suppress al-Qaeda.'

'Some look at it as treason,' said Wayne Simmons, a former CIA officer who participated in the commission's research.

Retired Rear Admiral Chuck Kubic, another commission member, told reporters Tuesday that those weapons are now 'all in Syria.'

'Gaddafi wasn't a good guy, but he was being marginalized,' Kubic recalled. 'Gaddafi actually offered to abdicate' shortly after the beginning of a 2011 rebellion.

'But the U.S. ignored his calls for a truce,' the commission wrote, ultimately backing the horse that would later help kill a U.S. ambassador.

Kubic said that the effort at truce talks fell apart when the White House declined to let the Pentagon pursue it seriously.

'We had a leader who had won the Nobel Peace Prize,' Kubic said, 'but who was unwilling to give peace a chance for 72 hours.'

In March 2011, Kubic said, U.S. Army Africa Commander General Carter told NBC News that the U.S. military was not actively targeting Muammar Gaddafi. That, Kubic revealed, was a signal to the Libyan dictator that there was a chance for a deal.

Gaddafi responded by 'verifiably … pull[ing] his forces back from key rebel-held cities such as Benghazi and Misrata.'

Gaddafi wanted only two conditions to step down: permission to keeo fighting al-Qaeda in the Islamic Maghreb (AQIM), and the lifting of sactions against him, his family, and those loyal to him.

The Obama administration's unwillingness to help broker a peaceful exit for the Libyan strongman, 'led to extensive loss of life (including four Americans)' when al-Qaeda-linked militants attacked U.S. diplomatic facilities in the city of Benghazi,' the commission told reporters.

The White House and the National Security Staff did not immediately respond to questions about the group's findings.

'We don't claim to have all the answers here,' said Roger Aronoff, whose center-right group Accuracy in Media sponsored the group and its work.

'We hope you will, please, pursue this,' he told reporters. 'Check it out. Challenge us.'