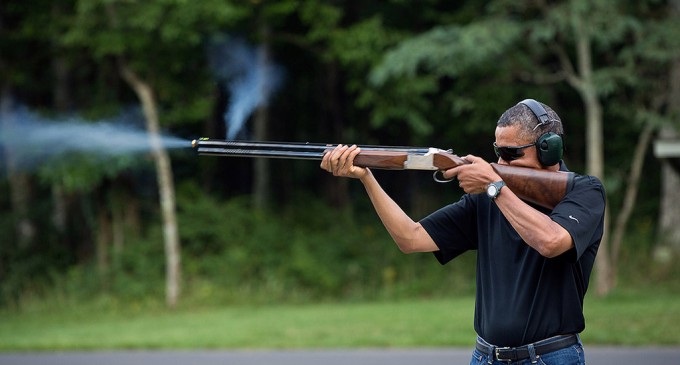 Obama has denied overseas troops from watching NFL and baseball playoffs (a much needed diversion for them) and even church services during the government shutdown. Priests can't even volunteer their time without being arrested!
Yet, he keeps Camp David and military golf courses open for his own entertainment.
This is the very definition of narcissism and a slap in the face of those who serve their country.
Mr. President, we really didn't need more reasons to hate you. We've got plenty, thanks!
President Obama has visited the Navy-run presidential retreat Camp David in central Maryland only 32 times, but it is being kept open during the government shutdown for his entertainment and security at the same time the Pentagon is cutting sports coverage to hundreds of thousands of troops around the world.

Obama has spent just 78 days at the retreat, choosing instead to spend his weekends in Washington and hitting military golf courses, which are also being kept open during the government shutdown.

In the meantime, overseas troops who typically look forward to watching NFL games and the baseball playoffs provided by the American Forces Network, will get little if any service due to the shutdown.
Military Priests Face Arrest For Celebrating Mass During Shutdown:
According the Archdiocese for Military Services, GS and contract priests (who are paid by the federal government as independent contractors in places where there aren't enough active-duty priests to meet the needs of Catholics in military service) are being forbidden from celebrating Mass, even on a volunteer basis. If they violate this restriction, they face possible arrest. FOR CELEBRATING MASS.

From John Schlageter, General Counsel for the Archdiocese:

There is a chronic shortage of active duty Catholic chaplains. While roughly 25% of the military is Catholic, Catholic priests make up only about 8% of the chaplain corps. That means approximately 275,000 men and women in uniform, and their families, are served by only 234 active-duty priests.

The temporary solution to this shortage is to provide GS and contract priests. These men are employed by the government to ensure that a priest is available when an active duty Catholic Chaplain is not present.

With the government shutdown, GS and contract priests who minister to Catholics on military bases worldwide are not permitted to work – not even to volunteer. During the shutdown, it is illegal for them to minister on base and they risk being arrested if they attempt to do so.