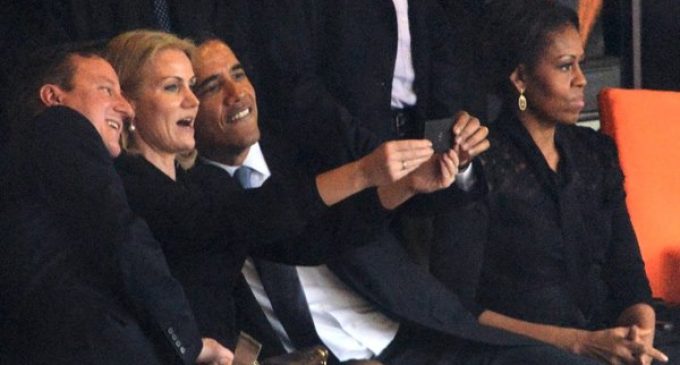 Probably not.
Barack Obama spent his time in South Africa at Nelson Mandela's memorial service shooting tasteless selfies with British Prime Minister David Cameron and Danish Prime Minister, Helle Thorning-Schmidt and shaking hands with Cuban president Raul Castro.
Fortunately, Obama finally had time to focus on the reason everyone was there: to hear his self-serving speech.
Henri Le Riche estimates "Obama's expected 10-minute speech at Nelson Mandela's memorial will cost taxpayers at least $500,000 per minute."

That's not counting any cakes and coffee he and his inner circle consume aboard Air Force One during the 18,000-mile round trip to Johannesburg, via Dakar, in Senegal.

The 28-hour two-way flight will cost $5 million because the four-engined Boeing 747 costs roughly $180,000 an hour to operate, according to a May 2012 report by the Congressional Research Service.

The cost includes jet fuel and subsequent maintenance of the aircraft's engines, electronics and hotel-class facilities.

Obama has been accompanied by the First Lady, Attorney General Eric Holder, national security advisor Susan Rice and confidante Valerie Jarrett.

In addition to Obama and his entourage aboard Air Force One, the government sent along the presidential security detail – armed guards, bullet-proof limos, and other equipment – on a far less luxurious C-17 cargo lifters based out of Andrews Air Force base. Cost: $23,811 per hour.

Obama's trip is not merely ceremonial. The high profile event serves as a spectacular propaganda piece to highlight multiculturalism, the latest political control tool exploited by the establishment.

Incidentally, the ideological heirs to Mandela's communism do not support Obama's presence in South Africa.
Source: Infowars
Photo: RedFlagNews