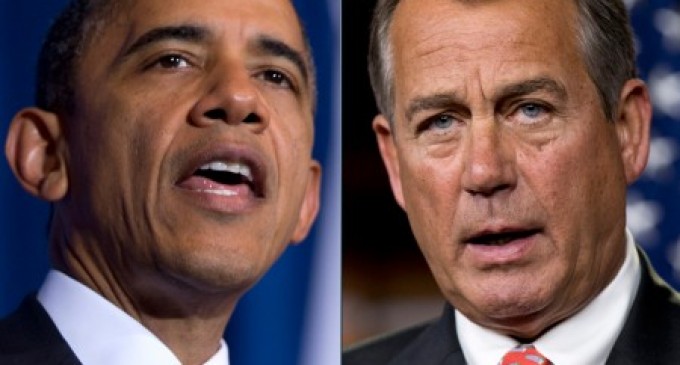 Obama seems to be enjoying his shutdown, snubbing everyone from members of government to our veterans.
He's now rejected a compromise by House Republicans to handle the shutdown.
But is there something more sinister in mind than the temper tantrum we're seeing?
If we fail to raise the debt ceiling we could, for the first time, default on our debts. The repercussions of this would only be negative. Obama could use the chance to bypass congress and simply raise the ceiling, thereby seizing even more power.
This could all be nothing more than a ploy to show people that in order to get through our economic crisis he needs to have ultimate authority because otherwise things get deadlocked in congress.
It will be very interesting to see things unfold the closer we get to the Oct. 17th deadline for raising the debt ceiling.
President Obama has rejected a proposed compromise from House Republicans that could have helped to end the congressional standoff that led to the now 11-day-old partial federal government shutdown.

House Speaker John Boehner (R-Ohio) pitched a "clean" six-week increase with nothing in return to the community organizer in the White House and Senate Majority Leader Harry Reid (D-Nev.). As Big Government's Matthew Boyle reports, "Obama's and Senate Majority Leader Harry Reid's decision to completely reject any offer of a compromise from House Republicans confirms what most conservatives already know: Obama will not negotiate on anything (he has said as much numerous times over the past couple of weeks) unless he faces consequences for failing to do so."