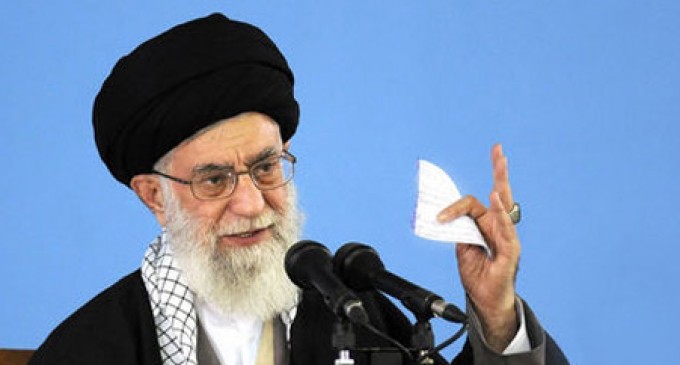 President Obama has cited with approval a "fatwa" against nuclear weapons issued by Iranian supreme leader Ayatollah Ali Khamenei. The transcript of the fatwa actually calls the United States a bully and "nuclear criminal". Is this a reasonable basis for easing sanctions against an aggressive enemy nation?
Administration officials refer periodically to the "fatwa," although some skeptics, including Muslims, have expressed doubts that such a ruling exists – or if it does, that it holds much weight. Some Iranian critics of the regime call it an outright hoax.

As the international standoff over Iran's nuclear activities has dragged on, confusion has long swirled around the fatwa because there doesn't appear to be a single, definitive copy of it. In referring to it, Iranian officials have also given various dates of issue.

Shortly before his election President Hasan Rouhani said last May the fatwa was declared in November 2004, but according to Iran's mission to the United Nations it is dated February 2012. Other officials have said it was issued in August 2005, a claim repeated in a column on state-funded Press TV this week.

In response to queries about the fatwa, its original wording, and the apparent date discrepancies, the Iranian mission in Vienna has now provided a document carrying yet another date – April, 17, 2010 – and states that this is indeed the supreme leader's fatwa in question.

The document is a transcript of a speech Khamenei gave to an conference on nuclear disarmament in Tehran, in which he defends Iran's "natural and valuable right" to a peaceful nuclear program, and takes aim at the United States.

"The interesting point is that the only nuclear criminal in the world currently falsely claims to be combating the proliferation of nuclear weapons," the speech says, adding that if the U.S. was really combating proliferation then Israel would not have nuclear weapons.

"Although many countries have sought to manufacture and stockpile nuclear weapons – which in itself can be viewed as a prelude to the commission of crimes and has seriously jeopardized global peace – only one government has thus far committed a nuclear crime," it says. "Only the government of the United States of America attacked the oppressed people of Hiroshima and Nagasaki with atomic bombs, in an unequal and inhumane war."

The speech accuses of group of powers – none of them named except for the U.S. – of having provided "the Zionist regime" with nuclear weapons, in contravention of their commitments under the nuclear Non-Proliferation Treaty.

"These countries, headed by the bullying and aggressive United States regime, pose a serious threat to the Middle East region and the world."
The administration's reasoning behind easing sanctions against Iran and placating the Ayatollah seems pretty shaky.
Source: CNS News
Photo: Office of the supreme leader