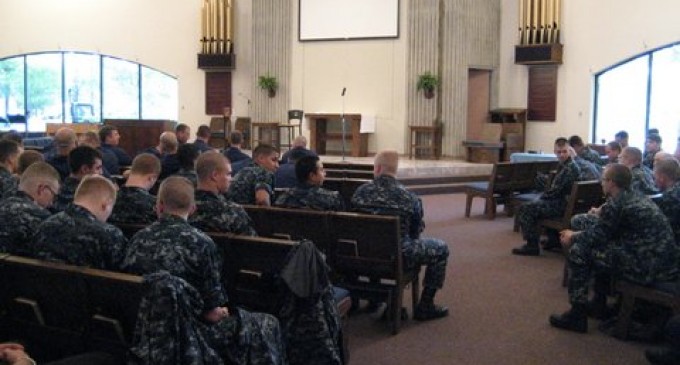 In another show of unbelievable arrogance, Obama has canceled Catholic services on a US Navy Base, locking the doors.
The priest can't even volunteer his time without being arrested.
Obama seems to think his actions are above reproach. Either he is just plain dumb, or the end is nigh for our current system of laws and governance and he knows it. He's already usurped most of our constitution.
The closer we get to the imminent collapse of our economic system and martial law, the more tyrannical his actions will become.
Think things are bad so far? You haven't seen anything yet!
In the wake of the government shutdown, despite provisions in the Pay Our Military Act, Catholics at Kings Bay Naval Submarine Base in Georgia are being denied religious services.

The Catholic priest who serves this community has been prohibited from even volunteering to celebrate Holy Mass without pay, and was told that if he violated that order, he could be subject to arrest.

Protestant services continue to take place. Only Catholic services have been shutdown. This is an astonishing attack on religious freedom by the federal government, and the latest affront towards the military since the beginning of the shutdown.

As a result, the Thomas More Law Center (TMLC), a national public interest law firm based in Ann Arbor, MI, today, filed a federal lawsuit in the United States District Court for the District of Columbia.

The lawsuit was filed on behalf of Father Ray Leonard, a Catholic priest contracted to serve as base chaplain and Fred Naylor, one of Father Leonard's parishioners and a retired veteran with over 22 years of service. Fr. Leonard is a civilian Catholic Pastor contracted by the Department of Defense (DoD) to serve as a military chaplain at Kings Bay Naval Submarine Base in Georgia.