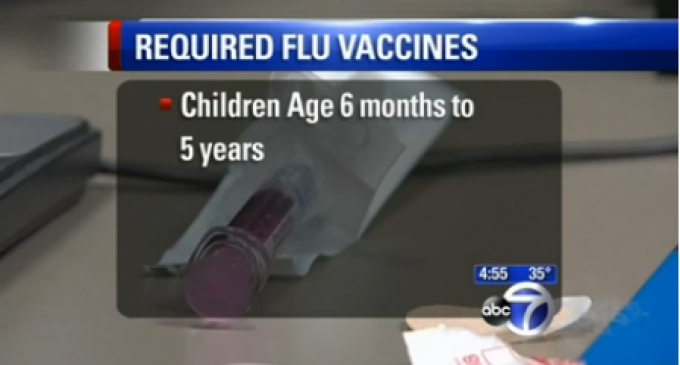 Mandatory flu shots?
Mayor Bloomberg is getting what he wants with the NYC Board Of Health: forced flu vaccinations of kids in New York.
The flu does NOT impose any kind of immediate danger to public health sufficient enough to warrant ANY kind of loss of liberty, like The State being able to do to our children what they want!
NEW YORK (WABC) — New York City will soon require young children who go to preschool or day care to get flu shots.

The Board of Health voted Wednesday in favor of the mandatory vaccine for children under 6.

Health officials say the measure will save lives. And Dr. Jay Varma, deputy commissioner for disease control, says the measure could keep as many as 20,000 city kids from getting sick.

The initiative takes effect in 30 days. The vaccine will be required for about 150,000 children.

Parents may opt out for medical and religious reasons.

"We estimate that 10 to 25,000 kids won't suffer the flu because of that vaccine . For every 100 kids under the age of 5, 40 of them will get sick in any year from the flu," said Dr. Jay Varma, Deputy Commissioner for Disease Control for New York City.

City health officials say it will protect children and slow the spread of the virus in the entire community. Similar mandates are already in place for children in New Jersey and Connecticut.

"We already require children be vaccinated against measles, mumps, whooping cough, chicken pox and this is really adding one vaccine- one we know is important," adds Dr. Varma.

Adding one more to the list of required vaccines has some parents angry.

"It takes away informed consent from parents and the ability of parents to make the decision as to what may be the best health choice for their family," said Kim Mack Rosenberg, who is the mother of an autistic child.

"The Bloomberg administration hasn't demonstrated that it's meant the burden it needs to enforce a mandate like this. There's no general public emergency and there's no imminent threat to the public," she said.

Dr. Varma says, "The argument that we don't have legal authority or that the process was flawed is incorrect. There's a clear and established process to establish rules like this, where public can comment."

During the public comment period, the city received 249 letters opposing the proposed law, but if finalized the flu vaccine would be required for children as of December 31, 2014.