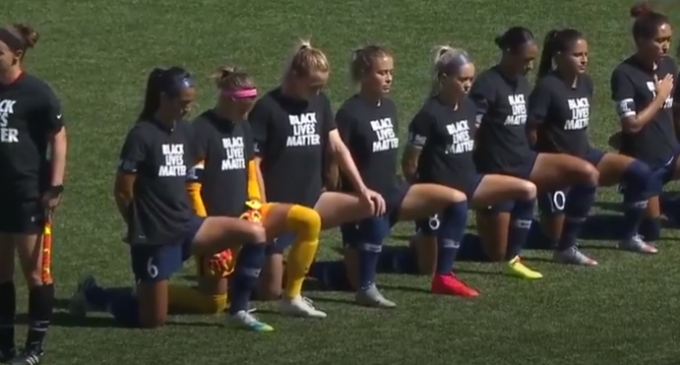 Donning Black Lives Matter t-shirts, all 22 starters from the North Carolina Courage and Portland Thorns, along with reserves from both teams, kneel while the national anthem played before the opening game of the NWSL Challenge Cup on Saturday.
The players and coaches wore their Black Lives Matter attire while warming up before the game, which was nationally televised on CBS.
"We took a knee today to protest racial injustice, police brutality and systemic racism against Black people and people of color in America. We love our country and we have taken this opportunity to hold it to a higher standard. It is our duty to demand that the liberties and freedoms this nation was founded upon are extended to everyone," said a joint statement released before the game by the Thorns and Courage.
"Today, hopefully, it was a powerful statement," said Courage midfielder Sam Mewis after the game where her team defeated the Thorns. "It was an emotional time and I hope that both teams' message comes through clearly."
"The (players' association) has been about collaborating with teams on what we can do to maintain and sustain the conversation around racial injustice in this country," said Thorns defender Becky Sauerbrunn:
"We made a strong statement and we wanted to kind of maintain that momentum that has been happening and to show official commitment to the cause," she added.
Move to the next page for video of the event.