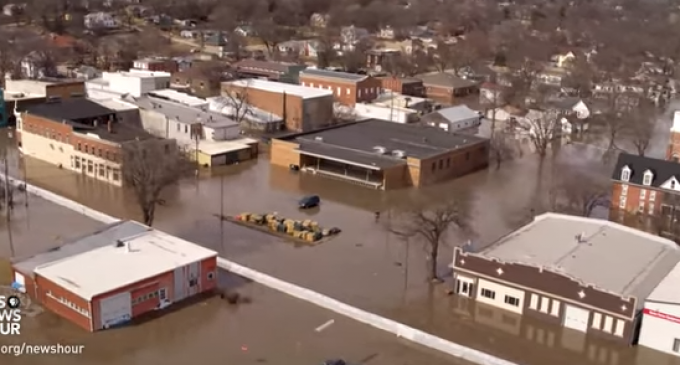 The record-setting floods deluging the Midwest that have killed at least three people and caused an estimated $3 billion in damages so far is about to get a lot worse.
The immense devastation has taken a heavy toll on agriculture, submerging tens of thousands of acres, threatening stockpiled grain and killing livestock. Not only have U.S. farmers been dealt the worst blow in decades, but tens of thousands of people have been forced from their homes in Nebraska, Iowa and Missouri.
None of this is supposed to be under water.

Here's what the Missouri River looks like just across from Nebraska City into Iowa. If you ever drive to Kansas City, you're probably familiar with this interchange of I-29 and Highway 2. The Missouri looks like an ocean.#NSP575 pic.twitter.com/kwkkAs5fha

— NEStatePatrol (@NEStatePatrol) March 21, 2019
Unfortunately, spring 2019 is expected to be much, much worse for the central United States and above-average precipitation across much of the Lower 48, according to the NOAA.
The massive amount of snowfall seen in late February combined with tropical rains and wet snow from the "bomb cyclone" that swept across the country a week ago, and frozen or saturated ground surfaces have set the stage for historic floods.
Turn the page for details.