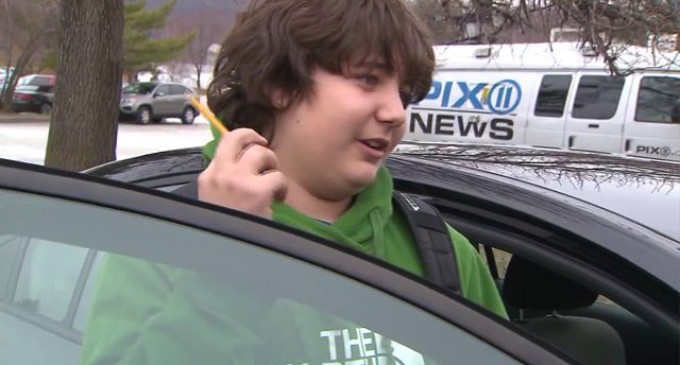 The state of New Jersey has threatened to take a son away from his parents and place him up for adoption after an incident where the boy twirled a pencil like a gun in class.
13-year-old Ethan Chaplin was initially threatened with suspension when a classmate stated Ethan had 'twirled his pencil like a gun'. After receiving media attention the school backed off.
However, after the incident seemed to cool off, the family received a letter from the "New Jersey's Department of Child Protection and Permanency and Department of Children and Families".
"I received a letter from them saying they had found an incident of abuse or neglect regarding Ethan because I refused to take him for psychological evaluation," the father stated.
To appease the state and end the insanity the father took Ethan in to see a social worker, where blood and urine were drawn and no behavioral problem was found.
But the state was still not happy and demanded more testing – threatening this time to take the child and place him up for adoption.
You can help this family deal with this insane situation by calling this the state's Dept. of Children and Families:
Department of Children and Families
Address: 22 Mill St, Paterson, NJ 07501, United States
Phone:(973) 977-4525
1-855-463-6323
[email protected]
The father has contacted Gov. Christie's office, who has promised to get in touch with the Dept of Children and Families, but feel free to give more impetus for that to happen by contacting the governor's office as well. There is an online form if you prefer:
Office of the Governor
PO Box 001
Trenton, NJ 08625
609-292-6000
http://www.state.nj.us/governor/contact/