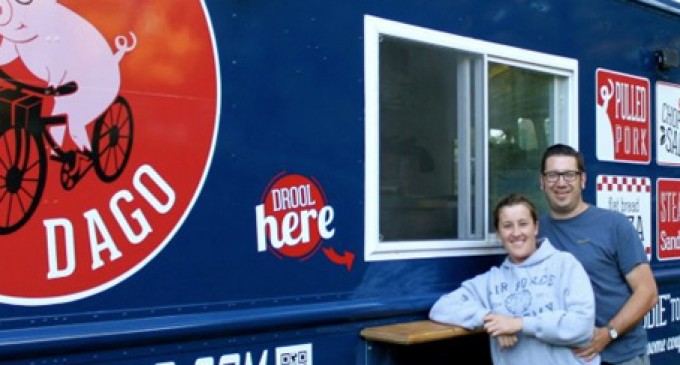 An Italian barbecue food truck banned from selling food near New York's statehouse is engaged in a dispute over their business name.  Authorities want to prevent the "Wandering Dago" food truck from doing business near the statehouse in case someone is offended by the 'racial slur'.
From the Wall Street Journal:
The truck's operators, Andrea Loguidice and Brandon Snooks, are both Italian and say the name they chose for their truck was a "playful reference" to their heritage.

On Monday, the couple sued New York in federal court in Albany, claiming that the state had no right to censor their commercial speech. A state agency denied their application because its name had been deemed offensive, according to court papers filed by the plaintiffs.
It is unclear what damage officials feel the company name is causing.  Certainly if customers were offended they would buy lunch elsewhere.
"On one side of this debate are those, like Defendants, who believe that certain words should be forever banished from the public's vocabulary. They seek to avoid offense by eternally policing the language," wrote Mr. Carpinello in a court brief. "On the other side are those, like Wandering Dago, who argue that there is a role for re-appropriation, humor, and self-deprecation."
What do you think? Should officials be able to ban the truck from doing business or should the first amendment right to free speech  be defended by the court?