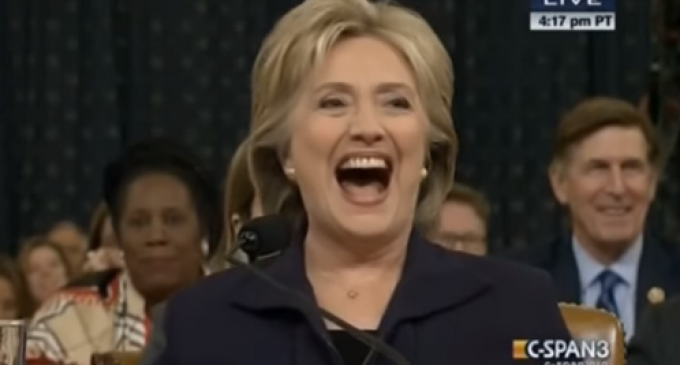 To be kind, one might say that Hillary Clinton has a tenuous relationship with the truth.  To be less kind, she's a liar, liar, pantsuit on fire.
This reputation's beginnings can be traced all the way back to when she and her husband — then-Arkansas Attorney General —  pressured a bank official into giving illegal loans to friends of theirs, which later became known as the Whitewater scandal.  When they were deposed on the issue, Hillary was reported to have said "I don't recall" about 50 times.
Hillary, of course, was the main attack dog against Monica Lewinsky and other women who claimed sexual misconduct against her husband.  Hillary — currently posing as the champion of women's' rights — claimed the women made it all up and that her husband was innocent.
Hillary Clinton also likes to regale us with tales of the time she dodged sniper fire upon arrival in Bosnia as First Lady.  Since making those claims, video has surfaced of the Clintons calmly greeting school children as they disembarked from Air Force One.
Clinton's greatest lie, however, may be her version of what happened at the Benghazi diplomatic outpost and CIA annex on September 11, 2012.  Now — thanks to Judicial Watch — new documents have been uncovered that show that Clinton knew what happened to be a terrorist attack and that she lied to the American people about it.  To read the damning reports from Judicial Watch, continue reading on the next page: